January 31-February 6, 2007
home | metro silicon valley index | columns | silicon alleys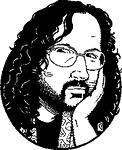 Silicon Alleys
Happy Birthday, SJSU
By Gary Singh
THROUGHOUT 2007, San Jose State University will be celebrating its sesquicentennial, meaning that the university is officially 150 years old. Many folks don't know that it's the oldest public institute of higher learning in California. People are already starting to chime in on the university's website with memories. Being that this author is a third-generation San Jose State graduate, allow me to heave in my 3 cents and regale y'all with some quick squalid tales from the decade I spent in the place.
As music students in the early '90s, we started an experimental noise Dada improv jam ensemble called the Gas Chamber Orchestra. A majority of what we did was merely a 1990s mixed media San Jose version of what the Exploding Plastic Inevitable did in New York in the 1960s, that is, a mixture of folks influenced by classical music, poetry, video, noise, chaos, rock, anarchy, the avant-garde and who knows what else. We despised all conventional forms and didn't know what to do with our discontent. GX Jupitter Larsen once described his act, the Haters, as "part performance art, part demolition crew and part fraternity of the absurd." That pretty much described us as well. Unfortunately, everybody everywhere wrongly interpreted the moniker as a Nazi reference, so we knew the project would go absolutely nowhere fast, but we refused to change the name. None of this was for academic credit—it was just for fun—and we ended up functioning as the Andy Kaufmans of the music department for six years. Our last gig there was May 14, 1998—the same night as the last episode of Seinfeld and the same night that Frank Sinatra died, thus signaling the end of the 20th century.
There is no room here to discuss it all, but here are a few tidbits: In November of 1992, we did a gig with four synthesizers at the Student Union Holiday Faire. This is where vendors hawk their crafts and small combos perform in the bottom level of the building. We were supposed to have a two-hour slot, but we got shut down after one hour for playing many different Christmas songs simultaneously for 60 straight minutes. It was intentionally irritating and we reduced the entire event to complete rubble.
During October of 1993 we stuck a Honda Civic onstage, put contact microphones all over it and proceeded to smash it to pieces with sledgehammers. The professor who taught the symphony class immediately afterward in the Concert Hall understandably complained that the entire stage was littered with car parts, pieces of chrome, glass, oil, garbage, food, pumpkins, broken televisions, ice cream and who knows what else. So we whipped out the form-apology letter we had concocted for whenever we pissed someone off and the professor cordially forgave us. Whew.
We then played the Holiday Faire again, with two of us cranking out annoyingly sequenced cut-up versions of Christmas tunes while I used the computer language MAX to randomly skim through Tony Bennett and Neil Diamond Christmas CDs backward at full blast. (In 1994, there was no other way to play a CD backward except for that software.) The performance was shut down after 20 minutes due to numerous complaints. Also, we had earlier been busted for using university equipment to make pornographic fliers for these gigs, so that show's flier—which featured an X-rated shot of a Korean girl in a Santa Hat, saying, "The Gas Chamber Orchestra puts the X back in Xmas"—contained a stipulation: "No State equipment was used to make this flier." It just doesn't get any more ridiculous than that.
There you have it. Those are some of my memories of San Jose State and I wish the place all the luck in the future. Part two of this grimy collection of memories will come next week. Long live SJSU!
Contact Gary Singh or send a letter to the editor about this story.