February 7-13, 2007
home | metro silicon valley index | the arts | stage | review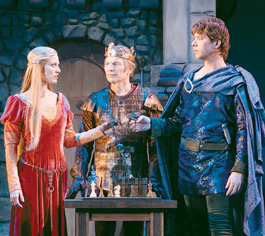 Photograph by Craig Schwartz
Why is the table square? The king (Michael York), Guenevere (Rachel York) and Lancelot (James Barbour) gather round the non-round table in 'Camelot.'
Winter Of York
Michael York makes you want to believe in 'Camelot' all over again
By Marianne Messina
THE NEW and improved Camelot playing at American Musical Theatre of San Jose is a special show—and not so much because of the new improvements. The story about the king of all England, who was raised in the woods by a magician, needs an actor who can embody such an improbable history without camp, irony or split personality. This production has Michael York.
According to the tale, Arthur grows up to become a king who wants make a "civilized" world ruled by law, not violence, where "violence is not strength; compassion is not weakness." Despite the strong themes, which finally edge to the fore in the second act, we have to endure (or enjoy, if you like the shtick) some goofy numbers at the beginning—Lancelot's braggadocio as he confesses he's the godliest man he knows and Guenevere's pettiness (she just loves a man in a suit of armor).
James Barbour's Lance appears both comical and formidable in his heroic poses, full armor and rich baritone voice. Guenevere (Rachel York, no relation to Michael) is playful and rebellious until the story darkens up in the second act, when it becomes clear that Guenevere and Lancelot are betraying Arthur together "in their hearts." Yes, it's messy man getting in the way of his own ideals again. And Arthur's bastard son Mordred (Shannon Stoeke) turns up to show him that on the earthly plane of Camelot, irreverence still trumps innocence.
Besides universal ideas and great songs, Michael York as King Arthur adds a presence that overtakes the whole tone. The actor transcends his thinning voice and his middling singing chops by infusing Arthur with a sense of wonder and youthful excitement, not to mention a kind of sweetness. The hugs were tender—if short. York's king studies the world around him and always seems amazed or intrigued by it.
The impressive, tall Barbour as Lancelot shaped up nicely from pompous ass to secret lover. He had the voice to make "Whenever I Should Leave You" a heart melter. Too bad that in moving the song to later in the play, the new version has him fall out of a song about never leaving Guenevere into sudden agreement that they can't see each other again. Minor details.
Costume changes galore (Marcy Froehlich, costume designer) make Lancelot ever more colorful, the king ever royal in gold and purple with rust or golden capes and Guenevere gradually more laden. Her dresses start out flowing and silky, pale colors in pink and aquamarine, and grow more firmly formed and velvety. Designer John Iacovelli delivers satisfying sets, two-storied stone structures and arches, gnarly treed forests several layers deep (except this night they left a couple of grandfather trees in Guenevere's bedroom).
The ever-popular songs all get their due. In "Camelot" York's every gesture accents the notion that the place is amusingly perfect. The show's final scenes made more brisk for contemporary audiences do not draw out the execution of Guenevere (what modern audience would complain about a burning at the stake?). Guenevere is marched offstage; next thing, she's running back over the stage with Lancelot and others. The whole suspense of the story, wondering what kind of action Arthur's going to take when his heart and his law (or mind) are at odds, is trampled by a stage full of people running to and fro in a confusing mayhem. Still, York standing at the edge of the stage yelling, "Run, boy," to the end makes you want to believe with him that in spite of repeated destruction, someday the ideals will take hold.
Camelot, an American Musical Theatre of San Jose production, plays Wednesday-Thursday at 8pm, Saturday at 2 and 8pm and Sunday at 1 and 6:30pm at the San Jose Center for the Performing Arts, 255 Almaden Blvd., San Jose. Tickets are $13.75-$73. (408.453.7108)
Send a letter to the editor about this story.