February 7-13, 2007
home | metro silicon valley index | silicon valley restaurants | review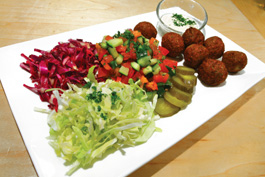 Photograph by Felipe Buitrago
Town Without Pita: The falafel platter is the house specialty at Mountain View's Neto.
Nothing But Neto
New cafe bakery is perfect for the Mountain View street that has everything
By Stett Holbrook
BLOCK for block, Mountain View's Castro Street has a greater diversity of restaurants than anywhere else in Silicon Valley. From Thai to Italian and Indian to Japanese, the street is a virtual United Nations of food. And for the street that has everything, now there's Neto, an Israeli/Mediterranean cafe and a superb bakery.
Located at the foot of Castro Street in an attractive corner building with a few outdoor tables, Neto Caffe and Bakery is a busy, good-looking space that has a happy buzz about it. The first thing you notice as you walk in is all the fresh pastries on the counter. There's a little bit of everything here and everything I tried was fantastic.
Rugalach ($2.95) is a small, Eastern European rolled pastry. At Neto, it's quite a bit bigger and rolled up with bittersweet chocolate and makes for a soft and creamy dessert.
If you like chocolate, check out the chocolate babka ($4.50), a dense but moist rolled chocolate cake that looks something like a cinnamon roll. It's slightly crisp outside and rich and almost custardy inside. Served with a cup of Neto's excellent latte, this is cafe food of the highest order.
On down the counter are samples of the rest of Neto's menu. Many of the dishes like falafel and hummus are familiar and don't really warrant a display model, but looking at lesser-known items like the shakshuka (an Israeli breakfast dish of two fried eggs atop a thick tomato sauce) and schnitzel is helpful.
Palestinians and Israelis argue over who invented the falafel (wouldn't it be nice if that's all they argued about?). Neto's falafel plate ($8.75) is a strong example from the Israeli camp. The golf ball-size patties have a great tanginess and a pleasing hint of cumin and not a hint of oil. The falafels are served with two cabbage salads, sliced pickles, tahini sauce and fluffy house-made pita bread.
At $7.25, Neto's hummus is a lot for a plate of puréed beans but the hummus is rich and creamy and quite good. For a dollar or so more you can get it topped with things like fava beans, tahini sauce and sautéed mushrooms and onions. All orders come with green olives, pickles and more of that good pita.
The first thing you notice as you walk in is all the fresh pastries on the counter. There's a little bit of everything here and everything I tried was fantastic.
Be sure to try the schnitzel ($13.95). Made with a thin slice of tenderized chicken breast that's been battered in a fine, barely there breading, it's at once crisp and juicy. The french fries, sautéed mushrooms and salad on the side make this a full meal.
Neto serves wine and beer and some excellent coffee drinks but what I liked best was the lemonana ($2.95), slushy lemonade puréed with fresh mint.
With its light and bright interior and wide windows looking out onto Castro Street, it's easy to spend a couple of hours at Neto, nibbling pastries and sipping coffee while you tap into the cafe's WiFi access. And they're open until 2am, so stay as long as you like.
Neto's mix of Middle Eastern food and European pastries makes sense when you consider the background of chef and co-owner Eitan Ben Saadon Rotman. He was born in Israel and later studied bread-making in Germany, chocolate in Belgium, patisserie and desserts in France, cooking and baking in Israel and coffee-making in Italy. His cooking is a great addition to restaurant-rich Castro Street.
---
Neto Caffe and Bakery
Address: 135 Castro St., Mountain View.
Phone: 650.625.9888.
Hours: 6am-2am daily.
Cuisine: Middle Eastern and bakery.
Price Range: $10-$14.
Send a letter to the editor about this story.