February 7-13, 2006
home | metro silicon valley index | the arts | tv | review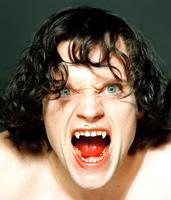 The teeth are out there: Marc Warren grimaces as Dracula.
BBC's Dracula Lacks Bite
By Michael S. Gant
DESPITE an surprising parental warning about adult subject matter (on Masterpiece Theatre?), the new BBC production, Dracula (airs Feb. 11 at 9pm on PBS affiliates, with many rebroadcasts to come), manages the impossible: it drains Bram Stoker's indelible tale of nearly all its blood.
We get a bit of hemoglobin on Lucy Westerna's white nightie when she is staked in the family tomb, but it looks like she spilled her glass of red wine. Where is the fountain of spurting plasma drenching the wretches who must finish off this fetching undead demoness? For that matter, we don't even get to see the necessary beheading that should follow.
The show, directed by Bill Eagles (whose very un-BBC credits include Battlestar Galactica, CSI, Cold Case and that trifecta of failed alien-anxiety series Threshold, Surface and Invasion) claims to be based on Stoker's novel, but it takes a lot of liberties. Jonathan Harker, for instance, is deacquisitioned early—left to rot in Transylvania. Lord Holmwood takes centerstage for a change.
Van Helsing turns up jibbering incoherently in a basement instead of being summoned by Dr. Seward. The Count goes down for the count in London instead of racing back to castle central in Transylvania. Quincy Morris, the Bowie-knife-wielding Texan? Missing in action.
Even worse, this is a Dracula sans Renfield—which means no fly swallowing. (I understand that the BBC thinks it is upholding the standards of the realm with Masterpiece Theatre, but Dracula without some actor charging over the top and gobbling every rubber insect on the set is just not really Dracula as we know it.)
The action begins with a case of syphilis that brings down Lord Holmwood's father and curses his heir. Informed by an old family saw bones that syphilis is uncurable, young Holmwood (Dan Stevens), a Monty Python twit-of-the-year type, loses it big time. He wants to marry luscious strawberry blonde Lucy Westenra (Sophia Myles, the poor man's Kate Winslet), but how can he subject her to his pockmarked fate?
Without an HMO to turn to, Holmwood decides to solve his pressing medical issues by contacting a cult of undead worshippers who are in communication with Count Dracula, who can guarantee Holmwood eternal life with one munch. The cultists wear very funny hats, which seems to be a requisite for cultists, regardless of century.
Poor Jonathan Harker, another twit-of-the-year contender (Rafe Spall), hies his weak chin and sallow complexion to the Carpathians where he is greeted by Count Dracula himself (Marc Warren in bad old-guy makeup; he looks like Jack Bauer's brother Graem in a Howard Hughes wig). Dracula makes short work of Jonathan, who never even gets to enjoy any quality time with the Brides of Dracula.
The Count, booking passage on a Russian three-masted Carnival Cruise ship, dispatches the other passengers and crew faster than a case of Legionnaire's disease and arrives at Whitby looking young and refreshed thanks to his infusion of Harker blood. (Actually, Warren, in his bad Buster Brown wig, comes off as a slightly more dissipated version of Val Kilmer's Jim Morrison.)
The alluring count befriends Lucy (who's really bored and restless because Holmwood keeps putting off the consummation of their marriage in order to bribe the cult leaders) and Mina (a perennially puckered-up Stephanie Leonidas), Harker's pining girlfriend. Soon Lucy takes to her sickbed, where Seward diagnoses something diabolical and orders a blood transfusion (although, again, no actual blood is visible).
In rapid order: a bat crawls up some curtains, Van Helsing explains the vampire legend, Dracula waltzes around in the daytime (what's that all about?), the cultists get their comeuppance and all's well that ends well as it looks like Seward and Mina will drown their sorrows in each other's arms.
This Dracula has one big idea—conflating syphilis and all that the dread scourge meant in Victorian England with the blood-borne horrors of the vampire. Now, if Google book search is to be trusted, the word syphilis never appears in Stoker, so this is an imaginative addition by screenwriter Stewart Harcourt.
It is not unheard-of for Dracula interpretations to hint at disease metaphors—Francis Coppola's Bram Stoker's Dracula seemed like a veiled allegory about AIDS. But Harcourt doesn't go anywhere with his idea, except to show us some of the medical side effects of the disease—although nobody loses their nose, as Johnny Depp's Lord Rochester did in The Libertine.
On the up side, Dracula is so familiar, that it is the little deviations that matter the most. The stake that Van Helsing procures for nailing Lucy and the Count isn't one of those perfectly shaved, mass-manufactured staves available at the Charing Cross Home Depot but a real hunk of tree branch with bark and little nubbins where twigs were hastily hacked off. This is the kind of stake that one might grab for in a primeval forest when confronted with a real blood sucker.
Send a letter to the editor about this story.