February 7-13, 2007
home | metro silicon valley index | movies | current reviews | preview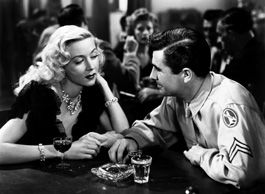 The power and the Gloria: 'Crossfire,' playing Feb. 7-9 at the Stanford Theatre, stars one of the best film noir femme fatales, Gloria Grahame, putting the moves on George Cooper.
Doubling Down
The Stanford revives some prime film noir, Val Lewton and more for spring
By Richard von Busack
DOUBLE-BILLING is an art, a lost one; long-memoried smart-alecks can remember when repertory theaters used to have contests to see who could come up with the best marquee pairing. I once won a pair of tickets to the old UC Theater for suggesting The Cranes Are Flying/Duck You Sucker, a Kalatozov/Leone two-fer. Wish I'd thought of Bambi/The Deer Hunter. The Stanford Theatre's spring calendar gives up some of the most intriguing double bills since the custom of two movies for the price of one went into decline; the pairs mix up vintage musicals, film noirs and the compact yet stunning horror films produced by Val Lewton.
Take the Feb. 28-Mar. 2 double-bill of Clash by Night (1952) and The Ghost Ship (1943). Clash by Night is the best movie that ever came out of Monterey. Many vintage Cannery Row locations enliven a sharp-edged love triangle. An embittered theater projectionist (avatar of film noir Robert Ryan) throws a monkey wrench into the new marriage of his best pal (Paul Douglas); Barbara Stanwyck plays the new girl in town. The title swipe from Matthew Arnold's "Dover Beach" foretells a verbal banquet meant to please the divorced and the alcoholic alike. ("Why didn't you let me sleep it off in the gutter?" Ryan asks. "I drank that shellac to get unborn.") The Ghost Ship has been accused of being an unauthorized borrowing of Jack London's The Sea Wolf, but it's far less Nietzchean. Richard Dix, a fatherly but stern sea captain, cracks like a China plate right before his crew. What's the connection? Misplaced trust in a man who seems to be in authority? The raging sea reflecting the emotional turmoil within the characters?
Act of Violence (1948) shows up with The Leopard Man (1943) on Feb. 14-16, and this time the game is easier. Ryan—very much the wounded predator—is loose in a small town, limping his way into the household of a former comrade-at-arms (Van Heflin). The latter is smugly riding a wave of postwar success, but noir's angriest man intends to refresh Heflin's selective memory. The Leopard Man, a Val Lewton film, is also about a rampage through a small town, which is barricading itself against what it thinks is an escaped panther. They're a well-chosen pair of B-pictures, the low light, dark mood and state of emergency storytelling complementing each other.
Many of the films justify themselves as less-known movies that needed a revival. In Frank Capri's The Bitter Tea of General Yen (1933, shows March 17-18) a tempting Barbara Stanwyck romances a Chinese warlord. Isle of the Dead (1945; shows March 7-9) features one of Boris Karloff's noblest roles in a story of looming panic that's way closer to Camus' The Plague than Monster Chiller Horror Theater. And The Devil and Daniel Webster (1941; shows April 21-22) is a remarkably spirited version of Faust, with Walter Huston. One Hour With You (1932; shows March 24-25) has Maurice Chevalier balancing a pair of ladies in between musical numbers. This schedule offers everything that made going to the movies good once, with all the taste, insinuation, lacy delicacy and deep, dark shadows, too often missing from the current screen.

Film Noir and Other Classics shows through April 29 at the Stanford Theatre in Palo Alto; see www.stanfordtheatre.org for details.
Send a letter to the editor about this story.