February 7-13, 2007
home | metro silicon valley index | silicon valley restaurants | feature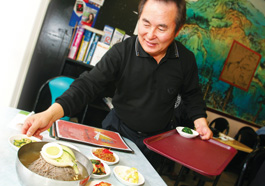 Photographs by Felipe Buitrago
This must be the place: Joseph Lee, owner of Corner Place in Santa Clara, serves up banchan, an array of side dishes that accompany a Korean meal.
Seoul Patch
Welcome to Koreatown: Pass the kimchi, but hold the politics
By Stett Holbrook
EARLIER this month, the Santa Clara City Council voted down a proposal to formally establish a Koreatown along a stretch of El Camino Real populated by scores of Korean-owned businesses.
But the city's action is moot. Officially or not, Koreatown already exists.
The Korean American Chamber of Commerce of Silicon Valley introduced the proposal. The business group was seeking official recognition of the business community like that granted by the cities of Los Angeles and Garden Grove. In addition, the chamber had previously asked the city to erect a Koreatown sign on the median near El Camino Real and Lawrence Expressway as well as Koreatown signs on Interstates 880 and 280 and Highway 101, hire a Korean-speaking police officer and require Korean businesses to post signs in English.
Alexander Hull, president of the Korean-American Chamber of Commerce, said official recognition would have been a boon to the Korean-American businesses as well as the city at large through increased investment and tourism.
But the City Council said no, citing its reluctance to single out one group for special status as well as Caltrans' prohibition of signs on public rights of way that promote private business. In a conciliatory gesture, the council passed a proclamation recognizing the contributions of the Korean community.
But Hull isn't giving up on Koreatown and says he'll try again.
"This could be so much more," he said as he drove down El Camino Real in his Lincoln Navigator, surveying the area a few days after the council's decision.
While official status would have raised the profile of the Korean businesses, which are clustered on El Camino Real between Lawrence Expressway and San Tomas Expressway, Santa Clara's Koreatown is in full bloom for those who stop and experience it. While Santa Clara is the core of Koreatown, some of it bleeds into Sunnyvale. There are scores of Korean restaurants as well as supermarkets, bakeries, boutiques, a tire dealer, a health club, banks, dry cleaners, furniture stores and other Korean businesses. The press generated by the city's action refusal has only raised the area's profile.
(To be fair, this same strip of El Camino is also a hotbed for Indian restaurants. I've referred to the area as the Seoul-Delhi in the past, a slightly more inclusive name.)
In case you hadn't noticed, Santa Clara isn't exactly a tourist mecca. I believe city support for Koreatown would have lifted all boats in the city, Korean and non-Korean alike. Unfortunately, there are whiffs of xenophobia that swirl around the debate. Santa Clara is a different place than it was 30 years ago. It's a lot less white. The chamber estimates about 3.3 percent of Santa Clara's businesses are Korean-owned and about 35 percent of the city is Asian. According to the 2000 U.S. Census, 2.2 percent of the city's 102,000 residents are Korean-Americans.
It's understandable that some residents oppose official recognition of the very changes they lament. But it's better to channel these changes into positive directions than resist demographic reality with the thinly veiled nativism that came out at the City Council meeting.
But enough of the politics. Let's talk about the food.
Finding Your Way
Unlike San Jose's Japantown or San Francisco's Chinatown, Koreatown is not yet practiced in cultivating visitors. Many businesses don't have signs posted in English, so it's hard to know what's going inside. And many business owners don't speak English and are not used to dealing with non-Koreans.
But for visitors to Koreatown, that's part of the fun. There's a real sense of discovery and adventure as you wind your way down this stretch of El Camino, especially if you bring an appetite. While Korean-owned dry cleaners and furniture stores aren't likely to be a big tourist draw, the multitude of good Korean restaurants are definitely worth the trip.
From a distance, Korean food might look like a cross between Chinese and Japanese food. Given China and Japan's proximity to the Korean peninsula, as well as Japan's brutal colonial occupation of the country, there are influences.
But Korean food is unique. It's a hearty, rough-around-the edges cuisine that lacks the refinement and elegance of Japanese cooking, yet is a lot lighter and less oily than Chinese cuisine can be. Like many of the world's best culinary traditions, it's a humble cuisine based on peasant-priced ingredients that are transformed into deliciousness through labor-intensive preparation and slow cooking. It's Asian soul food.
"It's really straight-forward food that's the product of poverty," says Melissa Koh, a 27-year-old Mountain View resident whose parents moved from South Korea to the United States in the 1970s. "You put in it whatever you have."
That said, she loves Korean food for its robust, healthy and spicy qualities. Having lived in Sunnyvale near Koreatown, she continues to enjoy many of area's restaurants and markets.
Starting With Kimchi
Kimchi, fermented cabbage spiked with garlic-laden chile paste, is the bedrock of Korean food. Because South Korea has sweltering summers and bitterly cold winters, preserving food to last through the cold months is key and kimchi is a staple. Every home and every restaurant makes its own version. Crisp, fermented white radish called gahck tu gil is also popular.
Kimchi and other fermented vegetables are so important to the Korean table that Samsung and other Korean appliance companies make kimchi fermenters for home use that look as sleek and modern as the latest dishwasher or washing machine. Han Kook, Hans Koreatown's biggest grocery store, sells a sharp-looking model for $1,800.
Korean meals are typically served with an array of small plates called banchan (sometimes written as panchan) that include things like kimchi, bean sprouts, radish, yams, green onions, tofu, dried anchovies and sweetened adzuki beans. Eaten with the bowls of rice served with every meal, this alone could make a complete meal. But you don't want to stop there.
Korean food is also big on garlic and chile paste. Koreans are said to be the world's biggest consumers of garlic. The two ingredients permeate the food and add a boldness to the cuisine. While Korean food can be quite spicy, the heat level is seldom overpowering. (At least that had been my experience in Koreatown. Maybe they toned it down owning to my non-Korean status.)
Korean food is probably the least known of the Asian food available in America, but to the extent that people have tried it, it was probably Korean barbecue. We Americans love our grilled meat, so it's as an good introduction as any into Korean food. Santa Clara's Koreatown has several restaurants that specialize in this festive style of food. Some have grills right in the middle of the table where you grill bulgogi (thinly sliced beef marinated in sesame oil, soy sauce, garlic and green onions) and kalbi (pork or beef ribs), pork loin and octopus. Others cook it for you. Either way, the idea is to wrap the meat up in leaves of lettuce smeared with chile paste and wash it down with cold Korean beer or soju, a vodkalike Korean liquor. Korea House (2340 El Camino Real; 408.249.0808) is one of Koreatown's oldest restaurants and purveyor of the we-cook-it-for-you style of barbecue. At the other end of the strip is Palace B.B.Q. Buffet (1092 E. El Camino Real; 408.554.9292), a cavernous carnivore haven with gleaming copper hoods hanging above the tabletop grills.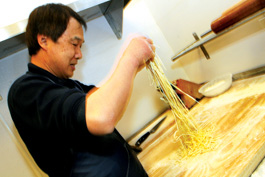 Stringed instruments: Chung puts the finishing touches on handmade noodles at Santa Clara's Dumpling and Noodle.
One of my favorite Koreatown restaurants is Dumpling and Noodle (2783 El Camino Real, 408.249.8990), a tiny family-run shop. As the name implies, the restaurant specializes in big bowls of handmade noodles (kal kook su) and big, plump dumplings (mandu) that are just about the best things I've ever put in my mouth. The wrappers are thin and slippery and melt in your mouth, yielding delicious pork, beef and kimchi fillings. Owner Haeran Yi traveled to South Korea to learn how to make her dumplings and noodles. She was a good student.
There are a half-dozen noodle soups. My favorite was chicken noodle, the first one on the menu. The big bowl arrives loaded with fat, square-edged noodles and tender, mostly white-meat chicken in a thick, opaque, almost gravylike broth. I also liked the "well being" spinach noodle with shrimp and squid. The bright, light green noodles are fresh and light. The broth is subtle but rich and the whole shrimp and slivers of tender squid make this a nourishing bowl of noodles. Fried shrimp dumplings are another standout, light, crispy, almost oil-free and packed with a big wad of sweet shrimp and green onion.
The bustling restaurant is hidden in a minimall off El Camino, but once you find it you'll feel like you're someplace special, especially when you hear the chorus of contented noodle slurping coming from the other customers. (Slurping and burping are both permissible and even polite in Korea. My kind of place.)
Dumpling and Noodle also makes excellent kimchi. It's Haeran's grandmother's recipe and she makes it fresh each day. Since it's not fermented it's technically not kimchi, but it's delicious, at once cool and spicy and coated in a thick chile paste.
"Business been really good," says David Yi, who helps out his mom at the restaurant. "There's a lot of competition here on El Camino but you won't find anything like us." Indeed.
While Dumpling and Noodle specializes in just a few things, across the street Corner Place (2783 El Camino Real; 408.249.8990) serves a wide range of Korean dishes. Although it's a traditional summer dish, I'd eat Corner Place's iced buckwheat noodles (naeng myeon) year-round. The tangle of gray-black noodles rises above a moat of spiced beef broth that floats shards of frozen broth. The broth tastes like a refined beef broth but with tangy, complex flavors that lit up my tongue like a battery top. Each spoonful is crunchy, cold and fascinatingly delicious. Slices of pickled cucumber, half a hardboiled egg and pine nuts bob in the frigid soup as well. The restaurant is also known for its sam gye tang, a chicken, ginseng and herb soup that takes three hours to prepare. (It's made to order in the winter so call ahead.)
Two spaces down from Corner Place is Sui Tofu (2777 El Camino Real; 408.261.2777), a dimly lit, modern-looking place with marble tables that specializes in naeng myeon as well as rice congee, here lovingly called gruel. The rice porridge is available with meat or vegetables. I went for the chicken and ginseng version, a big, warming bowl shot through with tender strands of chicken and a few dried pieces of nutty-sweet ginseng. It's a great cold-weather soup and even better when you add in some of the banchan, in this case chilled spiced beef, radish, chile-laced tofu and of course kimchi.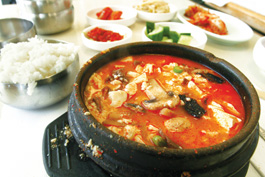 Spicy specialty: Tofu House's original soft tofu soup with beef and mushrooms.
Soondubu
For cold-weather eating, you can't do better in Koreatown the soondobu, a bubbling cauldron of soft tofu (soondobu means soft tofu) in a chile-infused broth. It's available vegetarian-style or with beef or seafood. Anyway you get it, it's a satisfying, warming dish. Blue Stones (3530 El Camino Real; 408.243.0019) is one of my favorite places for the stuff. Located on a prominent corner just south of Lawrence, it's been open for about three years and replaced an Indian restaurant. Inside, the restaurant looks like it might have been a diner or burger joint years ago. The hideous, flesh-pink chandelier hanging in the middle of the dining room doesn't say Korea or India but rather 1970s Americana schlock.
The soup, which is available in four levels of spiciness, is really more of a stew. It arrives bubbling in a black clay pot. The silky, crumbly tofu fills most of the bowl. It's the rich, reddish and peppery broth (I chose medium spicy) that brings the soup to life. Combined with tiny bits of beef, green onion and a poached egg hidden beneath the tofu, I found myself eating past the point of full.
I also liked the bimbimbop. The popular bowl of rice, vegetable, meat and fried egg is the hamburger and fries of Korea, though at Blue Stones it is a little pricey to qualify for fast food. It arrives sizzling in another one of those forge-hot black stone pots and is piled high with carrots, zucchini, mushrooms and green onions and topped with a slightly overfried egg. A light, barely oily sauce tied it all together. My favorite part was the layer of crusty rice that developed on the bottom of the bowl.
Nearby, Tofu House (3450 El Camino Real; 408.261.3030) is another master of soondobu. I ordered the beef and tofu and it arrived bubbling in a stoneware cauldron. The bits of silky tofu and beef simmered in a rich, moderately spicy red broth that would be just the thing on a cold February night. When you're done, you'll get a pot of hot water that you're supposed to pour into your empty bowl to mix with the baked-on rice. It makes a kind of bland but refreshing tea. Remember, Korean food started as peasant food and nothing is wasted.
As I said earlier, you could make a meal with just all banchan you get at some restaurants. That's the whole idea at Side Dish Corner (3278 El Camino Real; 408.246.3330), a tiny restaurant with just two tables and a small counter that sells bento box Korean food. You choose from a number of side dishes and add in any beef or seafood dishes you like.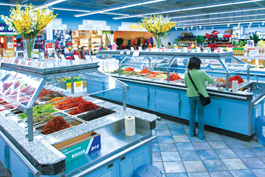 Top Asian: Han Kook market's famous self-serve meat and vegetable bar in Sunnyvale.
Just north of Lawrence Expressway in Sunnyvale is the mighty Han Kook market (1092 E. El Camino Real, 408.244.0871). While it's technically out of Koreatown, it's the place for all things Korean. It's actually more of a mall and features a cosmetics counter, a clothes department, a cheap but good restaurant and the aforementioned kimchi fermenting machines. What impressed me most was the self-serve barbecue bar. You can get everything for a do-it-yourself Korean barbecue—marinated skate, pork ribs, chile sauce-coated rib eye and mounds of panchan like adzuki beans, spicy pickled cucumbers, seaweed salad, those little salty-sweet dried anchovies and, of course, kimchi by the bucketful.
Korean Influence
It's interesting to see how Korean food in Koreatown has influenced some non-Korean restaurants. Tong Soon (3240 El Camino Real; 408.615.9988) is a Chinese restaurant owned by Chinese Koreans and one of the best dishes on the menu is the a Koreanized Chinese spicy seafood soup called cham pong. (It's the No. 5 seafood noodle with spices on the menu.) The big, bright red soup comes with springy noodles and filled with tiny shrimp, clams, mussels, squid, scallops, specks of beef, spinach, and this being a Koreanized dish, big slices of garlic and a bowl of kimchi on the side. It's a popular soup. When mine arrived the waitress carried it on a tray with four identical bowls headed to other tables.
Although they won't say so, some of the sushi restaurants in Koreatown also have a few Korean dishes on their otherwise Japanese menu. Check out Shindokdo (2690 El Camino Real; 408.243.6000) in the Moonlight Shopping Center and the more upscale Cherry Sushi (2910 El Camino Real; 408.557.0770). Ask for the hwe dup bop, assorted sashimi and vegetables squirted with plenty of Korean chile paste.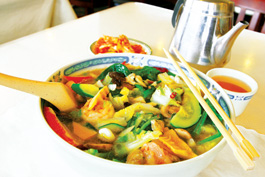 Koreanized: Cham Pong seafood noodle soup with spices is one of the best Korean-Chinese dishes at Tong Soon.
South Korean tourists have been known to pull up in buses for a bowl of the gom tang at Seoul Gom Tang (3028 El Camino Real; 408.615.0370), a tiny place hidden in the back corner of a mall. It's easy to miss because the sign out front isn't in English. (The Korean American chamber is working on that.) Gom tang is beef noodle soup, but it's so much more. It's the favorite food for the hung-over and the churchgoer alike. And since the restaurant opens at 7am and serves until midnight, most nights they serve all types. The great thing about the soup is that the broth never stops boiling. As some soup is ladled away more is added to the constantly bubbling pot. The result in my No. 2 cha dol bae gi (broth, noodles and brisket) was an almost milky broth that was actually bland until it came to life after I added in the kimchi, pickled radish and fresh green onion served tableside in little crocks. There's also pickled cucumber and strands of chile-drenched green onions to really pump things up. Properly amended, it's a nourishing, wonderful soup.
If South Korean tourists know enough to come to Santa Clara's Koreatown for a taste of the real thing, what's stopping you?
Send a letter to the editor about this story.