February 7-13, 2007
home | metro silicon valley index | the arts | books | review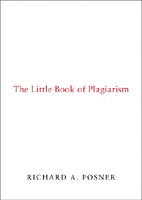 The Little Book of Plagiarism
(By Richard A. Posner; Pantheon; 116 pages; $10.95 cloth)

It would have been nice to have this little book around last year. With James Frey facing Oprah's wrath, Harvard novelist Kaayva Viswanathan disgraced and nearly one-third of American college students cheating, many claimed we had an epidemic of plagiarism on our hands. Not so fast, says Richard Posner, a judge on the U.S. Seventh Circuit Court of Appeals. In this clear and elegant argument, Posner lays out the differences between copyright infringement and plagiarism, and parses what he calls higher and lower forms of the offence. This may sound like judge delivering a reduced sentence, but Posner wisely reminds we have only recently begun to prize "originality." As he shows, everyone from Shakespeare to Rembrandt to Coleridge did things that would be considered intellectual fraud today but that in their time were simply smart business practice (like Rembrandt signing portraits his assistants largely painted), finicky perfectionism (Coleridge endlessly revising his "Ancient Mariner") or flattery by way of imitation (Shakespeare lifting lines verbatim out of other works into his plays). Clearly, though, we are in a different world. To judge plagiarists today, Posner writes, we need to weigh what they have to gain from the infraction and what the damage will be to others. Students who plagiarize have much to gain, and if they're graded on a curve, make things harder for people who do their own work. But with newer and newer plagiarism software on the market, chances that they'll get away with it decrease. Plagiarism in popular writing, though disgracing, remind us that these books are hardly "original" to begin with. "What Viswanathan did," Posner concludes, "was no less—though maybe no more—reprehensible than what a manufacturer of toothpaste would be doing if he slapped the name of a better-known brand on his toothpaste."
Review by John Freeman
Send a letter to the editor about this story.