February 7-13, 2007
home | metro silicon valley index | the arts | stage | review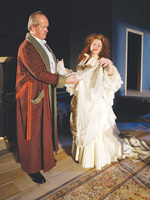 Thrills and frills: Patriarch James Tyrone (Paul Vincent O'Connor) indulges the memories of his troubled wife, Mary (Kimberly King), in 'A Long Day's Journey into Night."
Facing The Dead
San Jose Rep stages a brilliant revival of 'Long Day's Journey Into Night'
By Marianne Messina
EUGENE O'NEILL considered that he had "faced his dead" when he grappled "the four haunted Tyrones" into his autobiographical play Long Day's Journey Into Night. Jonathan Moscone's brilliant, brisk production at San Jose Repertory Theatre not only brings out the haunting of these two brothers and their parents but also pans back to fit each intrapersonal battleground into larger patterns of interaction. The vast interior of the Tyrones' summer home (Annie Smart scenic design) is made of fresh, blond wood—I wish my house looked so uncluttered. Wide-board floors and two ornate carved archways stretching deep through an alcove are all dominated by the towering staircase. It's hardly the "cheap" digs everyone refers to when they complain about family patriarch James Tyrone (Paul Vincent O'Connor). And that endless staircase (at least 20 steps) keeps the matriarch Mary (Kimberly King) "remote" rather than looming when she's finally climbed it and disappeared.
Since the home does not confine, the characters must draw their behavior, lashing out like penned animals, from elsewhere. And these five actors (including a sassy, bright Sarah Nealis as Cathleen the maid) have no problem filling the space. The effect is that the audience has a chance both to see the emotion and to see around it.
Jamie argues with his father; his mother Mary flips from cheery chitchat to nervous demands, yet it takes them several strides to get from couch to table and several more from table to piano (teetering at the left edge of the stage). There's energy in these kinesics that pushes you back to take in the larger rhythms of the emotion. For instance, Jamie argues that James is unwilling to spend money on Edmund's health. "If Edmund was an acre of land you wanted, the sky's the limit," Jamie accuses.
The pair's carpings and counterstrikes swell to a crescendo and then recede as the topic shifts to Mary's impending disintegration or what may be Edmund's impending death. On many occasions, these rolling waves of anger/blame folding back into hushed dread suggest that dread, not anger, fuels this family's haunting. The anger is just a diversion. Moscone enhances the effect with rapid pace and precise timing. Characters fire sprays of words back and forth, stepping mercilessly on each other's lines so that each argument feels both natural and brutal. Interactions carried on while going up or down the staircase end exactly when the character reaches top or bottom (did they count steps to rehearse this?).
As Mary Tyrone, Kimberly King is riveting, and not just for her hand motions—fingers thrumming the air nervously, fists partially clenching. She uses whole body language, like when she leans into her family as they leave and then, a beat after they're gone, subtly lets her body go, as if releasing the pressure of their presence (however it may fill the loneliness).
Paul Vincent O'Connor is somewhat imperious and very convincing in his judgment of his lazy loafer son Jamie, even if O'Connor, like many before him, doesn't do much to elucidate the painful core of his relationship with Mary. Mark Anderson Phillips' Jamie comes off rather unlikable, like a '40s movie star wannabe, a hopeful Humphrey Bogart or Clark Gable. T. Edward Webster makes the thin, consumptive Edmund Tyrone fiery and appealing. In addition to B. Modern's beautiful, tiered Victorian dresses for Mary, Moscone and lighting designer Lap-Chi Chu did wonderful things with lighting—from placement that reflected different times of day to arrangements that suggested moods or evoked character. No matter how many times you've taken O'Neill's long journey into exhaustion, the San Jose Rep production offers enough surprises to make it worth the ride.
A Long Day's Journey into Night, a San Jose Repertory Theatre production, plays Tuesday at 7:30pm, Wednesday at 8pm (plus 11am Feb. 21), Thursday-Friday at 8pm, Saturday at 3 and 8pm and Sunday at 2 and 7pm through Feb. 25 at the Rep, 101 Paseo de San Antonio. Tickets are $28-$56. (408.367.7236)
Send a letter to the editor about this story.