February 7-13, 2007
home | metro silicon valley index | the arts | books | review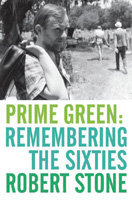 Prime Green: Remembering the Sixties
(By Robert Stone; Ecco; 229 pages; $22.95 cloth)

Robert Stone wrote one of the best books about the psychic fallout from Vietnam, Dog Soldiers; on assignment from Esquire in 1966, he hung out with Ken Kesey, Neal Cassady and Neal's pet parrot, Robiaco, in Mexico, "pursuing now vanished folk arts like cleaning the seeds from our marijuana" (Esquire rejected the story, complaining that Stone had "gone native"), and met the Merry Pranksters bus when it rolled into New York in 1964. When Stone sums up the art, politics and drug use of that tumultuous decade, his points feel honestly won by experience, rather than the kind of nostalgia or condemnation too often applied to those heady days. Stone recognizes the often contradictory mix of "obliteration with ecstasy" and "self-destructiveness with virtue and talent" but maintains that "the world profited and will continue to profit by what we succeeded in doing." This very loosely structured memoir—more a collection of gem-cut vignettes—takes Stone from his days in the Navy in the late 1950s through his nascent writing career on both coasts—at Stanford's writing program and, most hilariously, as a writer of lurid stories for a New York tabloid—to the disaster the a well-intentioned Paul Newman made of Stone's first novel, A Hall of Mirrors, when he turned it into WUSA. Stone spent time in a writers colony in Saratoga and even in the middle 1960s sounded a warning for our valley: "The high-tech plants were spreading down the valley to the south end of the bay, displacing the fruit orchards and their spring blossom storms, the peaches of Santa Clara, the pears of Mountain View. ... This smoke-free industrial revolution was displacing Steinbeck's California, even Kerouac's." It good to have Stone around to evoke that long-lost time when everything seemed possible.
Review by Michael S. Gant
Send a letter to the editor about this story.