February 7-13, 2007
home | metro silicon valley index | music & nightlife | preview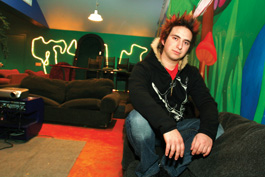 Photograph by Felipe Buitrago
Eric Ventimiglia hopes to prove that all ages shows can work at 'A Place for Teens' behind Los Gatos High.
Almost All Ages
The Venue opens as a new music spot for the younger set
By Claire Taylor
AS MUCH AS the South Bay is compared to San Francisco, there are some ways that this massive suburb continues to fall short of its "big-city" relative—and it's got Eric Ventimiglia fired up. "[San Jose's] like, what, one of the biggest metropolitan cities in the United States, and we have zero—zero—all-ages venues, or even just 21-and-under venues. And that's ridiculous," says the lead vocalist and guitarist for San Jose act 5606. "So it was just time to make a change."
In the wake of recent all-ages venues such as the Cave in San Jose and the Gaslighter Theater in Campbell shutting their doors, Ventimiglia hopes to establish a longer-lasting forum for up-and-coming local bands with the opening of the Venue, located at the A Place for Teens center behind the Los Gatos High School and formerly known as the Outhouse.
"We just want to have a place for people to go see bands again," he says. "And if we're supposed to be 'leaders of our scene' then we should step up to the task and do it, and we did."
Having seen various all-ages venues come and go during the seven years since he started 5606, leaving fewer and fewer options for local teens to get their live music fix, Ventimiglia, 22, says he made a promise to himself that he would give back to the scene that helped him get his start.
"Now, more than ever, it seems like [the all-ages scene is] at its all-time low, and there's just no place for kids to play," says the San Jose State University student. "So [5606 has] always been kind of scouring the scene to see if there's a place that we can help out with, trying to reopen or trying to help take charge. ... Then I met Mike over at the Venue."
Mike Loya, recreation supervisor for teen programming in the Los Gatos and Saratoga areas, says the Venue has hosted semiregular shows since the closing of the Outhouse in late 2004, but that he and other members of the teen center's board chose not to widely publicize the concerts. "As we took over the management of the Outhouse ... we wanted to keep the shows small and successful—the success is the quality of the music, the whole environment, making it safe," says Loya. "I think one thing Eric's trying to do is to bring it out to a broader base."
To begin with, that base won't be too broad. The Venue isn't holding to the typical all-ages club format, but will instead carry the stipulation that show-goers be under 21 years of age. This restriction is nothing new, with venues such as the Crash in Sunnyvale limiting their crowds to only high-school students. Loya says this decision to keep the Venue's audience under 21 came down to concerns parents voiced to the teen center's board.
"The question is, would you really want your 15-, 16-year-old daughter next to a 28-year-old male and vice versa? Well, we're guaranteeing safety," he says. "The music may be great, but if something's going on wrong in the parking lot, it's not a good thing." Along with age restrictions, the Venue also keeps to a strict "clean" policy (i.e., no alcohol, no smoking, no drugs), with hired or volunteer security patrolling the grounds.
Eric Fanali, 27, who resigned from booking for the Outhouse in September 2004 because of changes the teen center's board wanted to implement, including an under-21 policy, says he would like nothing more than to see the Venue flourish.
"I want them to do as many shows as they can and ... keep kids busy and keep them active," he says. "There are tons and tons of high-school-age and college kids ... that have nothing to do and they can't go to bars so they need a place to go. ... That need for music is there."
Ventimiglia isn't concerned that the under-21 stigma will prevent people from coming out to the Venue, which holds a maximum capacity of 324 bodies. "In general, if you look around, the kids who go to [all-ages] shows these days are really young," he says. "Maybe less than 10 percent of the crowd is over 21." Ventimiglia believes the most important thing is that there will be another place for local bands to be heard.
"The big problem is, for people who are 21 and over, they can easily go see other bands at bars and stuff, it's just the kids have nowhere to go," says Ventimiglia. "I mean, we were all young at one point and we all were like, 'Oh man, we can't go to the Agenda, we can't go to the Cactus on a Saturday night.' It was like, 'Ha ha, we have the Outhouse and we have the Gaslighter,' that was our place, and we're giving back another place to the kids." Keeping with that goal, Ventimiglia says there will be a suggestion box for teens to request bands they want to see or propose ways to improve future concerts.
According to Loya, the under-21 policy may change if the first few shows with Ventimiglia go well. "Eric is bringing a whole new energy, and with that he's bringing a whole new audience. If he can work this out and prove to us that an all-ages venue can work, I think we could one day give that a shot, too." A Place for Teens recently held an opening event for its newly built recording studio, Loya says, hoping to further cement the teen center as a hub for music. "Bands such as Strata, Dredg started here; bands like Trapt and Yellowcard have played here," he says. "And even if you're a new band that's just starting out, we're an open door, we'll get you some play time." Loya says he plans to eventually create podcasts of shows at the Venue to post online for curious parents, kids who missed their favorite bands and others, and in that sense the Venue will still reach out to all ages.
The future of concerts at the Venue is still up in the air, as Ventimiglia says this Saturday's grand-opening show will act as a measure of demand and success for the teen center's board, demonstrating that Ventimiglia's idea of how to support local bands is shared by South Bay youth. "We have to prove to [the board] that we do want this and that we can respect it and that they did make a good decision," he says. "So we're calling on people from all over the area ... to come down, if not for the bands but come down for yourself, come down for the scene."
5606, Story Told, Ashes Ashes, Scarlet Grey and Point of View perform Saturday (Feb. 10) at 6pm at the Venue, 4 New York Ave. (behind the Los Gatos High School), Los Gatos. Tickets are $8. (www.myspace.com/thevenueinlosgatos).
Send a letter to the editor about this story.