February 7-13, 2007
home | metro silicon valley index | the arts | stage | profile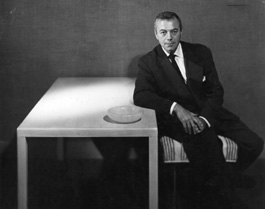 With courtesy of Lee Kelson estate.
Big Band Beat: Band leader Lee Kelson is the inspiration for Gary Kelson and D.W. Jacobs' play 'Better Than Sinatra.'
Learning By Doing
TheatreWorks' annual writers retreat gives playwrights a chance to hone the Tony winners of tomorrow
By Marianne Messina
WRITERS' RETREAT—it sounds like writers contemplating projects from their monastic cells in the woods. But TheatreWorks' Fifth Annual Writers' Retreat (Jan. 22-28) takes place in a peninsula office park full of studio rooms abuzz with activity.
Peek into one room, and you see Duncan Sheik standing in semidarkness at his work station. A computer screen blinks visual sound tracks as he sings to the dense pop-sounding score he's working on for The Nightingale, a takeoff on the Hans Christian Andersen tale. In the room next door, well-lit like a dance studio, five actors sit side by side, music stands in front of them, preparing to do a reading. Writers D.W. Jacobs and Gary Kelson preside over the read-through of the 40-minute piece.
This may not be a monastery, but when actress/singer Carole Foreman starts with the horsy whinnying and no one even looks her way, you know you're not in corporate anymore. This space is pregnant with creativity (and singers warming up their voices).
Kelson opens a folder and hands around the precious 60-year-old pictures—his mother as a Rockette, his big-band singer father, Lee Kelson, "in his Robert Mitchum days." Gary Kelson always knew the story: His mother became pregnant right when his father got his big break. Marlene Dietrich invited Lee Kelson to tour with her through Europe.
According to Gary Kelson, "When he was singing, women were squealing." But his mother feared an affair between her husband and Dietrich, so she gave him an ultimatum: music or me. Kelson only found his father's compositions upon Lee's death, and decided to turn them into a musical, currently titled Better Than Sinatra.
"This is a kind of resurrection we're doing here," says Jacobs, his laptop at the ready to make quick changes. Even though Carole Foreman, Robert Brewer, James Monroe Iglehart, David Curley and Lianne Marie Dobbs read and sing from a row of seated chairs, their performance is spellbinding.
According to Neil Bartram who, with his co-writer Brian Thomas Hill, is working on two musicals in the studio next door, TheatreWorks keeps these veteran actors, "chosen for their ability to make quick choices, give good cold readings," on call for writers to use. In their studio bright with daylight from a large window and filled by a conference table and upright piano, Bartram and Hill have reworked a musical called The Story of My Life in their four days of retreat.
They started by replacing their opening song. At the piano, Bartram plays the original opening number, a light song that patters and bounces and starts with two boys playing in the snow. "We thought it was a bit deceptive," Bartram says, "because it's not what the show is." In the story, one friend's death forces the other to look back over the 35 years of their less-than-perfect relationship.
More reflective, the new opening starts with soft chord splashes and wispy melodies. "It's sort of more brooding. We wanted to get into the psychology of that character." When Bartram and Hill finished their rewrite, they sought the opinion of successful writer Paul Gordon, who was working on his musical Emma across the hall. They pointed out that proximity to other working artists is another fringe benefit of TheatreWorks' Retreat program along with the on-call actors.
But Bartram and Hill admit that when TheatreWorks first invited them to the retreat, they were "really suspicious." A free week to do nothing but work on musicals? "What's the catch?" Bartram remembers thinking. "Before we came here we thought, 'We're really going to self-destruct."
The two men were used to working separately and saving questions until they got together to "present." "When you actually write something and present it," Hill explains, "you feel a little bit possessive about the work that you've done rather than tossing it back and forth." He adds, "I like this better." For this duo, TheatreWorks' retreat experience has "kind of changed our style of working a little bit," as Bartram puts it. So anyone enjoying Bartram and Hill's work on down through the future will have TheatreWorks Retreat program to thank.
Send a letter to the editor about this story.