February 8-14, 2006
home | metro silicon valley index | columns | silicon alleys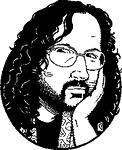 Silicon Alleys
Erectus: A Monument
By Gary Singh
PEOPLE ARE still complaining about 104.9's switch to Mexican music, and I've already said I don't care because I hate commercial radio. For me, all commercial radio is the same, no matter what the genre is: compact, corporate, watered-down nonsense. The DJs read canned statements off cards and hardly ever get to play what they really want to play. Listeners thought 104.9 was "cutting edge," or that long-obsolete term, "alternative." I remember when the term "alternative" meant anything you didn't play on commercial radio.
Which is why folks listen to college radio. On one show you'll hear Arabic house music, the next, obscure bluegrass, the next, pirate music, the next, Air Supply covers on tubas, and the next, Japanese punk.
So, allow me to bring you back to a time when commercial FM radio was more free-format—before huge corporations owned a zillion stations. When I was 7 or 8 years old, KOME 98.5 and their legendary logo were the rage in the South Bay (as far as commercial stations go). The late '70s and early '80s were the heyday of that station. Since they staged a reunion a few weeks ago—which looked pretty damn fun judging by the photos—I just had to sit down and philosophize with one of the all-time KOME legends: Dennis Erectus.
You see, Erectus was doing the lewd-rude-and-crude shtick long before Howard Stern was around, and every time I tell someone that I grew up listening to him, the person says, "Ah, so that's what happened." His first stint at KOME was from 1977 to 1983 and I clearly remember being 12 years old and listening to the Celebrity Gang Bangs with Donald Duck and Nancy Reagan. I didn't know what the hell a gang bang was at the time, but even as a kid you could tell that the DJs were having nothing but fun. They were playing whatever music they wanted and they were getting loaded on the job. So I hit up Erectus for some memories.
"I've always hated Republicans," he told me. "So I had a campaign against Ronald Reagan. I ran for president. There were a lot of points he was taking that I would use in reverse and exaggerate them to make fun of him. And I degraded his wife because she was like the queen of the United States at the time, and I thought she needed mud rubbed in her face, so I did things like that.
"It was really going against the grain because back then, [in the '70s] the idea was to do hippie radio ... you talk directly to the audience, maybe you talk like you're stoned or mellow. And when I started doing college radio at San Francisco State University, I went completely against that. I attacked the audience. And I didn't talk mellow like that. It got me in trouble and kicked off the air a few times, but it was really against the grain back in those days."
But he violently disavows any possible comparison to Howard Stern: "He does farting and burping jokes. I've never done that. That's for 5-year-olds. I think that's lame."
Erectus would also do remote broadcasts from places like a rundown bus stop or the San Jose city dump. "I would always pick unusual locations like that because I like the challenge of something [unexpected happening]," he said. "In the studio everything is very controlled."
And then there were the KOME vs. Journey softball games at Municipal Stadium, circa 1982 or so. "We played them three times. The first time we won, and then they won the next two times."
I remember at one of those games the PA announcer said that Journey singer Steve Perry couldn't make it because he had a knot in his hair.
"He was very prissy," Erectus said.
I told Erectus that I gave up on commercial radio by the mid-'80s because at that time you couldn't spin the knob down the FM dial without having to suffer through Boston or Lynyrd Skynyrd every frickin' hour. The jaded factor had set in.
"Well, the average schmuck wants to hear Lynyrd Skynyrd all the time," he said. "The same way that most people want to see the most famous model. So if you want to blame somebody, you blame the corporations and you blame the listeners."
Erectus says he often meets DJs of his generation who fantasize that those free-flowing days will eventually come back. "It'll never happen," he said, waving his hand dismissively.
Send a letter to the editor about this story.