February 8-14, 2006
home | metro silicon valley index | the arts | visual arts | review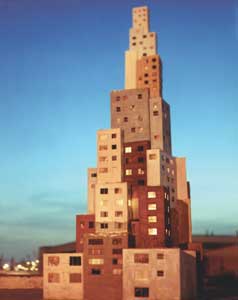 Photograph by Tracey Snelling
Tenement Without Pity: Tracey Snellings' 'Tenement' contains a world of rent-by-the-hour stories.
Naked Cities
Tracey Snelling and Michael McMillen fashion miniature worlds at de Saisset show
By Michael S. Gant
THE OPENING SHOT of Alfred Hitchcock's Psycho pans across the skyline of Phoenix, slowly closing in on an anonymous apartment building. Probing for an opening, the camera finally tracks through an open window to expose lovers Janet Leigh and John Gavin post-coitus. Oakland artist Tracey Snelling's remarkable new installation, "Dark Detour," at the de Saisset Museum, re-creates in 3-D the voyeuristic frisson of Hitchcock's classic sequence.
In a large, darkened room, past illuminated signs for the Red Head Piano Bar and the Edison Hotel, Snelling has assembled two miniature high-rise apartment buildings out of a grab-bag of materials—wood, plaster, wire, chips of colored plastic, photographs of facades. The one called Tenement is a bit over 6 feet high; Downtown about 4 feet. These seedy residences of the last resort look like architectural models gone to ruin, with peeling paint, tiny strands of dented chain-link fencing, roofs, clotheslines hung with tiny garments.
The detail is astonishing, but what really distinguishes these self-contained worlds is the sense of life unfolding within. Tiny panels of glowing light in each window allow us to catch glimpses of desperate lives. Using lights, tiny DVD players, film strips and photo transparencies, Snelling has filled her buildings with brief encounters. A clip of Jack Nicholson ranting from Carnal Knowledge ("Look sister, I'm out in the jungle eight hours a day!") loops in one window, furtive couples pass through distant doors, a man and woman embrace passionately, a bored woman swivels back and forth in a chair.
An ambient film noir soundtrack animates the action further: snippets of "A Town Without Pity," a verse from a Billie Holiday blues, the click-click of high heels escaping down a hallway, the nonstop buzz of street traffic. Here and there, curtains thwart our curiosity, but many of the rooms are as open to surveillance as the apartments Jimmy Stewart saw out his Rear Window, another Hitchcock film that Snelling draws on for inspiration. And indeed, if you kneel down and look closely enough, there's a still of Stewart and Kelly from the movie. It is easy to imagine that you are a private detective peeping through these windows, waiting for the blow of an alabaster ashtray to the head or the thrust of a knife through the ribs.
Snelling, who has shown meticulously constructed miniature crime scenes at the San Jose Institute of Contemporary Art in the past, is the Raymond Chandler of installation artists. In a final triumph of atmosphere, Snelling took Tenement outside to the roof of her own East Bay home and photographed it time-lapse fashion at night against the San Francisco skyline across the bay. She projects the image against a wall, and as the lights randomly flicker on and off in the distance, the model becomes a permanent part of the real Naked City.
Snelling's work is complemented by Michael C. McMillen's room-sized Red Trailer Motel. McMillen, who has worked as a prop designer for Hollywood films (including Blade Runner), has assembled a ramshackle, corrugated-tin-sided desert motel, complete with rusting oil cans, a cow skull, license plates, hand-painted frosty "Ice" sign, cast-off hubcaps, bald tires—everything except a bug light.
Radically toying with scale, McMillen invites viewers to step up to three doors mounted with micro-fish-eye-lens peepholes. Through these peepholes are miniature dioramas that appear to be stretch deep into some imaginary space, leading to rubble-infested alleyways and up ramps to deserted warehouses. Behind one door, a DVD screen shows artificially aged found footage of planes and industrial plants. These scattered images flash in the sky above a complete miniaturized town. In a bit of inspired lunacy, behind the back windows of one of these dioramas, McMillen has mounted an aquarium. Stare long enough and a brightly colored fish will flash by like some sea monster in an abandoned town submerged by the waters of a dam. McMillen's roadside attraction is tantalizingly familiar and yet completely off the grid.
Dark Detour by Tracy Snelling and Red Trailer Motel by Michael C. McMillen show through March 18 at the de Saisset Museum, Santa Clara University, 500 El Camino Real. (408.554.5125)
Send a letter to the editor about this story.