February 8-14, 2006
home | metro silicon valley index | silicon valley restaurants | review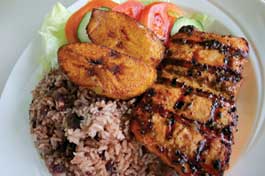 Jerking Back and Forth: Back A Yard applies its signature jerk-sauce treatment to salmon.
Can You Believe That Jerk?
Back A Yard brings Jamaica to the peninsula
By Stett Holbrook
IF YOU WERE a Jamaican living abroad and found yourself craving a taste of the polyethnic flavors of home, you might say something like, "Man, I wish I could find some food like back a yard."
"Back a yard" is Jamaican slang for "the way thing are done back home." Fortunately for Jamaican expats and Caribbean food lovers alike, there is a place close to home on the peninsula where it's done just like that. And appropriately enough, it's called Back A Yard Caribbean American Grill.
The 3-month-old Menlo Park restaurant occupies a tiny storefront on Willow Road just east of 101. The restaurant is painted a bright lime green inside and has just four tables. The reggae emanating from the kitchen, the Jamaican tourist posters on the wall and the swinging screen door contribute to an easy-going, casual vibe. It's mainly a takeout place, but the 10 chairs are usually filled up, especially at lunch.
For such a small restaurant, the menu is quite varied. In what chef/owner Robert Simpson says is a nod to the tastes of the neighborhood, it includes a few American dishes like hamburgers, barbecued meats and fried fish. (The restaurant used to be a fried chicken and fish joint, and Simpson wanted to provide a little continuity between the two restaurants.) But what you really want to order here is the Jamaican food, especially the jerk.
Along with reggae music, jerk is one of Jamaica's great exports to the world. Jerk is both a sauce and a marinade. It is a currylike mixture that combines a number of spices and herbs such as allspice, cloves and thyme spiked with varying levels of heat from Scotch bonnet chiles, close cousin to the fiery habañero. Poured over chicken, fish and pork it's a great, one-of-a-kind flavor. And at Back A Yard, the jerk is particularly good.
I tried the grilled jerk chicken ($8.50) and pork ($7.50). For the chicken, Simpson uses dark meat only, a more moist, flavorful choice. (White meat is available for $1 extra.) The pork comes from the butt or shoulder and is slow-cooked succulent and tender. Simpson says too many jerk recipes overdo it on the chile peppers, obscuring the complex flavors of the sauce with mouth-searing heat. His version has a little heat but the salty, fruity, aromatic flavors come shining through.
"I can make it nasty if I want to, but to me that's not jerk," he says.
The jerk plates come with excellent rice and beans cooked with coconut milk, fried plantains and a ho-hum lettuce salad topped with ranch dressing.
Simpson offers a different special each day. Unfortunately, I wasn't able to try the escoveitch fish ($11.75) or the ackee and saltfish ($11.75), two signature Jamaican dishes and the Friday and Saturday specials, respectively. If escoveitch sounds similar to escabeche, a Spanish vinegar-based dish, that's because it harkens back to the Spaniard's colonial legacy on the island. Ackee and saltfish is Jamaica's national dish and another example of the international influences on the island's cuisine. Ackee is fruit from a tree indigenous to West Africa. Interestingly, the botanical name for ackee is Blighia sapida, a name that comes from the infamous Capt. William Bligh, who reportedly took the tree to the West Indies. Saltfish, or salt cod, traces its roots back to Spain and Portugal, where salt-preserved cod was a staple of seafaring voyages. Salt cod was introduced to Jamaica by Spain, the country that brought the first slaves to the island in the 16th century.
I did try the Tuesday special, curry chicken ($9.50). Made with leg and thigh meat bathed in a mild but rich yellow curry, it's a simple but satisfying dish that gets its richness from coconut milk. Oxtails ($12.50) are listed as a daily special and they are incredibly tender and rich, but compared to some of other dishes, rather one-dimensional.
Desserts include black cake ($2.50) a dense, rum-soaked cake reminiscent of mincemeat pie; an ultrasweet version of key lime pie ($2.25); and my favorite, sweet potato pudding ($2.25), a dense and moist dessert with deep, caramelized sugar and coconut milk flavors.
Back A Yard doesn't sell Red Stripe, or any other beer for that matter, but you can get Ting, a Jamaican grapefruit soda, and good ginger beer.
Simpson began cooking in his native Jamaica and later worked in Belgium. More recently, he was the chef at the Crowne Plaza hotel in Burlingame and before that cooked in various hotels and restaurants in Chicago. Tired of the corporate setting and long hours working for someone else, Simpson opened Back A Yard to cook the food that he loves.
"This is what I grew up cooking," he says. "This is what I know."
---
Back A Yard Caribbean American Grill
Address: 1189 Willow Road, Menlo Park.
Phone: 650.323.4244.
Hours: 11am-9pm Mon-Thu, 11am-9pm Fri and noon-8pm Sat.
Price Range: $7.50-$12.25.