February 8-14, 2006
home | metro silicon valley index | music & nightlife | band review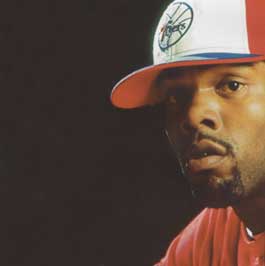 The Ballatician: E-40 and Keak Da Sneak tell us when to go in their new video.
Hyphy Nation
I'm in the building and I'm feeling like weeee!
By Todd Inoue
TWO WEEKS AGO I got a quick tutorial in the "hyphy" movement via a Keak Da Sneak, Mistah F.A.B., Mob Figaz and Baby Faced Assassins show in Santa Cruz. Despite "hyphy" being a mostly 925, 510 and 415 phenomenon, 900 customers balled out to the Catalyst to show the power, popularity and presence of mob music. Kids with self-made T-shirts, ridiculous sunglasses (a.k.a. "stunna shades") and manic enthusiasm treated their out of town guests like triumphant heroes and turned the Catalyst floor into a Pamplona cobblestone street. I was hanging outside when Keak went on. I followed him through the dice game in the backstage room and to the stage, where I was hit by a humid blast of perspiration and questionable smoke that instantly fogged my glasses. On the other side of the lenses were kids packed from floor to ceiling, mostly white and Latino, wilding out, crunching up their face (ah, the "thizz face!") and singing back all the words.
Hyphy is another word for "hyper" and has been categorized, somewhat lazily, as a West Coast version of "crunk." Keak Da Sneak coined "hyphy" in 1998 on the E-40 single "Cool," years before crunk blew up. The chicken-or-the-egg argument rages on.
"Hyphy" has been embraced by hipster cliques that previously might have scoffed at mob music. Credit E-40, Keak and the late Mac Dre, whose personalities, ill flows and sturdy shoulders created a formidable pillar of quality. Recently, the reclusive DJ Shadow—a bastion of taste to underground hip-hop heads—put in his "hyphy" contribution by producing "3 Freaks," a single with Keak and Turf Talk.
With recent Bay Area slaps like the Federation's "Hyphy" and "Go Dumb," Frontline's "What Is It?," Mac Dre's deep catalog, Messy Marv's "Get on My Hype" and Keak Da Sneak's anthem rotation of "Super Hyphie" and "White T's, Blue Jeans and Nikes," the scene is primed for the major breakout through a new E-40/Keak collaboration called "Tell Me When to Go." Its nasty smoke-signal beat cooked by Lil' Jon burrows and occupies the cluster of nerves that control rational thought, wild dancing and spinning cars in parking lots. Its black and white video directed by Bernard Gourley is like a noir postcard of Oakland landmarks: Moses Music, Ben's Burgers, Booker's Liquor and Grocery and the 24th and East 14th taco truck. And in the middle are Keak and E-40, rapping their asses off and offering a Hyphy 101 call-and-response lesson during the break: "ghostride the whip," "put your stunna shades on," "shake them dreads," "thizz face," "watch 'em swang" and other operatives.
The video sells the song beautifully; the Catalyst audience knew all the words. "Tell Me When to Go" played twice that night without complaint. I've lived through a few Bay Area rap movements—Hammer, Too Short, underground, indieground, tuntablism, mob music, ballers, players, collar poppers—and I'm excited to see if "hyphy" reaches mass acceptance. If the Santa Cruz girl with the ironed-on camisole reading "Super Hyphie" or the white kids throwing up the "Thizz" hand signal are any indication, hyphy's ascendance as a crossover power should happen faster than previously thought. Get up on the chaos early; Keak Da Sneak, Dem Hood Stars, Mistah F.A.B., San Quinn and Turf Talk play Thursday, Feb. 9, at the Parkside Hall in San Jose. Tickets are $35. It should be an interesting night, not only to see the current who's who of Bay Area anthem makers, but how SJPD reacts to a South Bay summit of the hyphy nation. The video for "Tell Me When to Go" can be seen at http://kickin-it.com/TellMeFinal.MPG.
Send a letter to the editor about this story.