February 8-14, 2006
home | metro silicon valley index | the arts | stage | review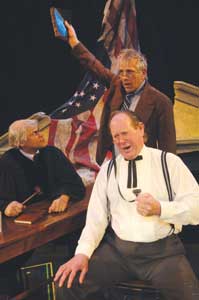 Photograph by Dave Lepori
Legal Eagles: Paul Santiago (left), Randall King (center) and Kevin Blackton debate creationism.
Inheriting The Past
The science vs. creationism controversy won't die in San Jose Stage Company's production of 'Inherit the Wind'
By Marianne Messina
DOES HISTORY repeat itself because no one picks up a history book; or because we read history and distance ourselves from "those people" and "that time"; or because the swing of the pendulum, like the process of evolution, is simply inexorable and stupid?
San Jose Stage Company's production of Inherit the Wind addresses these thorny questions. Based on the Scopes Trial of 1925, the 1955 play (remembered mostly for the 1960 film by Stanley Kramer, starring Spencer Tracy and Fredric March) puts teacher Bert Cates on trial in the South for teaching the theory of evolution. Sound familiar? "The play was written for that McCarthyist-type issue," says artistic director Randall King. He recalls balking at the idea of doing the play until he could no longer avoid the sense that its relevance has leap-frogged from the Prohibition era to the McCarthy era to the present in Dover, Pa.
Though the courtroom set is still only a model, rehearsals are coming down to the wire. After a court-scene run-through, director James Reese discusses with Bill Olson, who is playing the hapless Cates, and Chlo╬ Bronzan (Cates' confused girlfriend Rachel) the points at which their characters might and might not glance at each other during the trial. Torn between her love and her beliefs, Rachel goes on the witness stand for the prosecution, where she reveals Bert's anger over her preacher father's comments at an 11-year-old's funeral—that the boy's soul was "writhing in hellfire." Olson insists that he/Cates can't look at Rachel when she's relating this incident.
Prosecuting the case is the God-fearing, charismatic politician Matthew Harrison Brady (modeled after William Jennings Bryan). "The crowd is totally stacked in his favor," Michael Craig Storm points out in a round-table discussion. (Storm plays the "big city" reporter E.K. Hornbeck, an H.L. Mencken type.)
"The only opposition [Brady] has is me," adds King, who plays the crusading liberal defense attorney Henry Drummond, based on Clarence Darrow. "I think that environment gives him a sense of security that overrules his better judgment." Kevin Blackton, as Brady, has to pinpoint the exact moment at which his Wily Coyote looks down to find that Road Runner Drummond has lured him off the cliff of theological contradiction. The exercise is part of Blackton's challenge to keep the Brady character from veering into stereotype. King, Reese and Storm all agree that Bay Area audiences add to that challenge. "It's more difficult to get this audience behind Brady," says Storm. "We want to give both arguments credence and credibility," King adds.
These considerations complicate Reese's objective not to "give people that safety gap" of "It couldn't happen here." For Reese, one solution is to "make Brady charismatic again." Blackton, with his bulk and natural orator's baritone, embodies several steps in that direction, to which the actor adds his constant dramatic inquiry: "Where's the humanity of this guy? Where are the moments I can make this guy real?"
In order to put the townspeople on trial along with Cates, play-wrights Jerome Lawrence and Robert E. Lee include boisterous crowds—singing, cheering, placard waving. Scenes are written as if there's a character called "Voices," and in the film version, anthem singing dominates the scenic pans and bleeds into the action.
Before the run-through, musical director Dan Dally fires the cast up into singing so loud it breaks through the discussion several rooms away. Of all the prickly issues speaking to our time in this play, it'll be interesting to see if the crushing dynamics of groupthink don't come out the loudest.
Inherit the Wind previews Feb. 8-9 at 7:30pm and Feb. 10 at 8pm; shows are Wednesday-Thursday at 7:30pm, Friday-Saturday at 8pm and Sunday at 2pm through March 5 at the Stage, 490 S. First St., San Jose. Tickets are $20-$45. (408.283.7142)
Send a letter to the editor about this story.