February 8-14, 2006
home | metro silicon valley index | music & nightlife | band review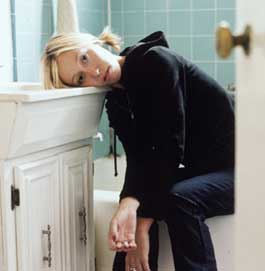 Photograph by John Brinton Hogan
Grey Goose: Anya's 'Miss Halfway' appears in an elevator scene between love-locked doctors on 'Grey's Anatomy.'
All of Me
A singer/songwriter isn't all that Anya Marina is
By Todd Inoue
Anya Marina remembers her least favorite heckler: "Someone said, 'GET OFF THE STAGE, YOU WHORE!' When I tried to see who it was, the woman vomited on herself and was escorted out of the club."
Numbskulls drunk on liquid courage find live performers regularly, and Anya Marina says she would rather educate than get physical. "I wanted to challenge her to come onstage and do a song with me," she says. "It cracks me up when people get drunk and criticize me, or are comfortable criticizing people who get onstage. Why don't you get onstage and be halfway captivating. If you're going to criticize, you better be better than me."
Challengers dare not step up to Marina. Her strength—using sharp humor to encourage schadenfreude—is concentrated. Songs like "Miss Halfway" and "Try It and Like It" are filled with smarty-pants observation, wasabi-blast clarity and quirky brilliance. Fans of Juliana Hatfield, artist Adrian Tomine and The Onion could find things to like in Anya Marina.
Raised in Cupertino, Marina made music with goth muses Andalusia during the mid-'90s before leaving the South Bay for San Diego in 1998. She took a job at a commercial radio station and made friends within the music community (including Jason Mraz, who played her birthday party). She still works in radio, doing the daytime shift at classic alternative station KBZT. "In San Diego, there's a cohesive scene, though people who live here will bitch about it. I feel like I stepped into town and made 20 friends, and they had 40 friends who would go to your shows. I felt like I got lucky; the music scene is really tight here and the quality of music is great."
Most musicians barely earn enough to buy a Taco Bravo burrito from their music. Marina supplements her income by getting her music in movies and television shows. Grey's Anatomy recently cut her a check for the use of "Miss Halfway" in the Nov. 13 episode. Marina also lends her wispy pipes for movie voice-over looping. Her headless vocals have been heard in Sideways, Anger Management and The Hot Chick. She just finished her latest job in the upcoming Adam Sandler movie, Click, about a man who finds a remote control that can fast-forward and rewind different parts of his life.
"I've played a Jewish mother, an uptight secretary, a lot of children," she says. "It pays the rent. The residual checks are the best. It's an extra bit of side work."
The irony is that her work as background noise flies against her identity as an acoustic singer/songwriter (a term she hates and reluctantly applies) trying to get her witty odes to love's confusion heard by the masses. She's working on a follow-up to Miss Halfway with a full band accompaniment to add muscle to the sound and maybe shake the singer/songwriter tag.
"The content is immediately different from your basic folk singer," she clarifies. "It's not immediately beautiful. I'm not angry or bitter. It's more of an attitude that's bent—hopefully funny bent—to it all."
She plays solo at the Coffee Society. The cafe on Stevens Creek is familiar territory for Marina. "I'm so excited to be playing there," she says. "I wasted so many years sitting on my ass outside of Coffee Society, wearing wannabe goth gear, striped stockings, my hair dyed dark red and trying to rock the whole goth thing, playing cribbage and smoking cloves. I found my first boyfriend and fell in love there. It brings back good feelings."
While most bands might balk at playing such a diminutive spot, considering it a step back in the career trajectory, Marina likes giving back to a place that brought her some of her most important life moments and lyrical inspiration. It's a safe harbor with old friends, familiar sights and good coffee. And nobody will accuse her of being a whore.
Anya Marina plays Feb. 18 at 8pm at Coffee Society, 21265 Stevens Creek Blvd., Cupertino. Life With Jonas also performs. All ages. Anya also appears on KSCU-FM (103.3) at 5pm on Feb. 18. (408.725.8091 or visit www.myspace.com/anyamarina)
Send a letter to the editor about this story.