02.11.09
home | metro silicon valley index | the arts | stage | review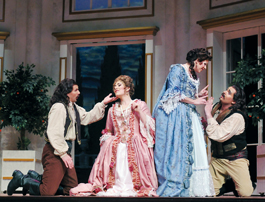 Photograph by Pat Kirk
ON BENDED KNEES: Krassen Karagiozov (left) and Alexander Boyer entreat Cybele Gouverneur (second from left) and Rebecca Schuessler in Opera San José's 'Così fan tutte.'
'Così' Comedy
Opera San José restores our faith in Mozart and da Ponte's farcical classic 'Così fan tutte'
By Scott MacClelland
IT CAN BE high comedy or low, but when Mozart's Così fan tutte isn't funny, it's god-awful dull. And that's in spite of some of the composer's most inspired and beguiling music. The landscape of Così productions gone awry, over the last several years and in some of the major opera houses, shows just how challenging Lorenzo da Ponte's comedy can be for otherwise credentialed stage directors.
But at Opera San José, director Brad Dalton's comedic insights play up—and down—to the da Ponte farce. For some of us, last Sunday's matinee restored faith in this infectious masterpiece after too many major house disappointments—including more than one in San Francisco.
Like the other famous da Ponte librettos for Mozart—Nozze di Figaro and Don Giovanni—the characters in Così are much more than mere cardboard cutouts. Even the gullible girls, Fiordiligi and Dorabella, and their naive soldier boyfriends, Ferrando and Guglielmo, are different from each other in a variety of subtle ways. The test of their faithfulness, set in motion by the older and wiser Don Alfonso, brings out a range of reactions, mostly predictable yet craftily spun by the librettist.
Mozart, of course, makes all these tropes and inflections impossible to miss since he gives solos and duets to each, at just the right moment, in the unfolding chess game. One very unsubtle example is Guglielmo's Act 2 complaint to all women in earshot, on both sides of the proscenium, about their appetite for multiple lovers. (While not a literal translation, "così fan tutte" here stands for "women are all the same.")
In their first time out, the cast for Sunday's matinee at the California Theatre (as always, the production is double-cast) gave a polished account of themselves. In her company debut, soprano Rebecca Schuessler began her Fiordiligi with slight jitters but quickly settled into fine characterization, both dramatically and vocally. She made her struggle to remain faithful to her Guglielmo (company resident baritone Krassen Karagiozov) while being seduced by her sister's beau (resident tenor Alexander Boyer) palpable and believable.
As Dorabella, who is all too ready to become the girl "who can't say no," resident Cybele Gouverneur etched her character as vividly and gilded it with a luscious mezzo-soprano. Likewise, the men found themselves defined by increasing differences of character, while both sang with ardor and dramatic flair. Sometimes, one wishes there were an Academy Award Oscar for best ensemble. These four deserve a nomination for the operatic equivalent.
While some of the noblest comedic moments accrue to the four lovers struggling with the consequences of a wager posed by Alfonso and accepted by the two soldiers, their angst depends considerably on two others' characters.
Don Alfonso was authoritatively portrayed by veteran comedic actor/singer Joseph Rawley. No less important is the slapstick comedy of Despina, the worldly maid-servant to the two gullible sisters, and, in disguise, physician—who uses Mesmer's giant magnet to save the "poisoned" soldiers now disguised as "Albanians"—and notary and solicitor. Making her company debut in the role, Jennie Litster was the consummate scene-stealer and provocateur of not a few of the many audience giggles and guffaws that punctuated the performance.
David Rohrbaugh's orchestra sparkled while his pace kept the show clicking wittily along. A versatile set, costumes and lighting enhanced the production without creating distraction—as so many "modern" stagings of familiar operatic fare seem to do these days. Clever choreographic steps and singing by the chorus gave added dimension, especially to the colorful "double wedding banquet" that opened the final scene.
 COSÌ FAN TUTTE plays Feb. 12, 14, 17 and 20 at 8pm and Feb. 15 and 22 at 3pm at the California Theatre, 345 S. First St., San Jose. Tickets are $69–$91. (408.437.4450)
Send a letter to the editor about this story.