02.11.09
home | metro silicon valley index | silicon valley restaurants | review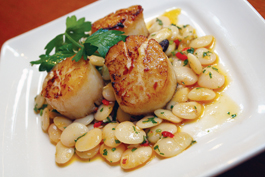 Photograph by Felipe Buitrago
HARVEST OF THE SEA: The seared scallop salad is accented with orange juice and coriander seeds.
Not Just Another Brewpub
The Los Gatos Brewing Co. goes beyond the basic burgers and curly fries
By Stett Holbrook
SOMETIMES, this is how it goes. I usually have a backlog of restaurants I want to review and new places I've been meaning to try, but lately my cupboard has been rather bare. There hasn't exactly been a flood of restaurant openings lately.
So I decided to drive around and see if anything caught my eye. It was almost 2pm when I drove into downtown Los Gatos. I was hungry and getting a little desperate. What the hell was I going to review this week? That's when I drove past the Los Gatos Brewing Co. Problem solved. Metro last reviewed the restaurant way back in 2001 so I figured it was high time to check in and see how the place was holding up.
Last week, I wrote about Three Seasons, a modern Vietnamese restaurant that separates itself from the pack of the many other modern Vietnamese restaurants. The Los Gatos Brewing Co. presents a similar story.
Most brewpubs seem to be cooking from the same menu: burgers, curly fries, some oversauced pasta, fried calamari, grilled chicken and maybe some tacos that cost more but are inferior to what you'd get at any taqueria. Brewpub food, much of it salty and/or fried, goes down well with beer, but it's not particularly noteworthy or the kind of food you'd seek out if it weren't for the lagers and ales served with it. But the Los Gatos Brewing Co. is different.
Executive chef Jim Stump has created a diverse menu of upscale comfort food that goes well beyond burgers and grilled-chicken sandwiches. The handsome wood-accented interior and open kitchen with its wood-fired pizza oven and rotisserie grill add to the restaurant's appeal.
On my first visit, I sat at the bar. The bartender could do much more than pull a tap; he gave me some great service, better, in fact, than what I got from a server on a subsequent visit. He steered me toward the excellent sliced-lamb sandwich ($11.25), thin slices of roasted lamb piled onto a ciabatta roll with artichoke hearts and grilled onions. I also enjoyed the nail-polish-red piquillo peppers ($8), roasted and stuffed with Manchego cheese, drizzled with pumpkin oil and a sprinkling of pumpkin seeds.
The restaurant's list of small plates and starters is extensive and makes for high-quality snacking.
I had low expectations for the crab cakes ($9). I rarely encounter crab cakes where actual crab instead of bread crumbs plays the starring role, but here the rock crab patties are packed with plenty of the advertised shellfish and were nice and crisp on the outside. Good, too, is the seared scallop salad ($13), with fat and rich scallops generously seasoned with black pepper and served with a butter bean salad in a light vinaigrette accented with orange juice and coriander seeds ($13).
Of course, any brewpub has got to please its large meat-and-potato constituency, and the Los Gatos Brewing Co. offers plenty in that department—tri-tip, pork chops, ribs. But in another sign that the restaurant is a cut above, it also offers a delicious grilled lamb steak ($22), something you're not likely to find at most brewpubs. The juicy, boneless lamb was cooked just the way I wanted it and lacquered in a rich and meaty demi-glace sauce. Sautéed spinach and roasted fingerling potatoes complete the deal.
Another atypical dish is the Italian squash pancakes ($15.75): shredded zucchini and black beluga lentils pan-fried until they're crisp on the outside but plenty moist inside. Gooey goat cheese melts into the whole satisfying mess.
The one strikeout was the smoked chicken ravioli in mushroom cream sauce ($17). It sounded good on the menu, but the dish was too salty and overbearingly rich.
Desserts don't break any new ground. All the usual suspects are here: cheesecake, bread pudding, tiramisu, ice cream. The German chocolate cake ($7) is a hulking, thickly frosted specimen and wonderfully moist. While not particularly original, the crème brûlée ($7) is as creamy and rich as they come with a perfectly executed burnt sugar crust on top.
In addition to the restaurant's lineup of beers (the dunkel weizen, a dark wheat beer, is particularly good), there's a solid wine list and cocktail menu, too. Open since 1991, the Los Gatos Brewing Co. is still going strong.
---
Los Gatos Brewing Co.
Address: 130 N. Santa Cruz Ave., Los Gatos.
Phone: 408.395.9929.
Hours: Breakfast 10am–2pm Sat–Sun, lunch 11:30am–3pm and dinner 5pm to close daily.
Cuisine: American.
Price Range: Entrees $11.75–$23.
Web: lgbrewingco.com.
Send a letter to the editor about this story.