02.11.09
home | metro silicon valley index | movies | current reviews | dvd review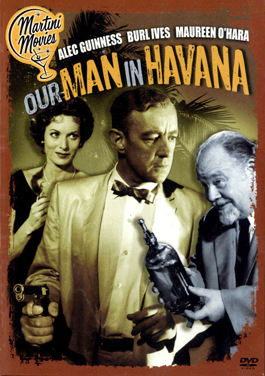 Our Man in Havana
One disc; Sony Pictures; $19.94
Reviewed by Michael S. Gant
This 1960 collaboration between director Carol Reed and novelist/screenwriter Graham Greene is no match for The Third Man but still delivers the pleasures of a cynical story in an exotic setting. In Cuba on the verge of revolution, a below-the-radar Englishman named Jim Wormold (Alec Guinness) runs a desultory vacuum cleaner business and tries to rustle up enough money to send his precocious daughter, Milly (Jo Morrow), to boarding school. His steady drinking companion is a slightly shady German expat doctor (Burl Ives). One day, a dandified British secret agent (Noel Coward) recruits Wormold to be London's "man in Havana," keeping an eye on subversive activities. Wormold agrees and builds up an elaborate and completely fake network of spies, feeding bogus info to the home office in return for a nice paycheck. Unfortunately, the eager bureaucrats in London (led by Ralph Richardson in a marvelous character turn) are so happy with Wormold's report that they send him extra agents. Greene's dry comedy scores easy points against the nonsense of espionage; one of Wormold's coups is a secret drawing of a military installation that looks suspiciously like a giant vacuum cleaner. But the story doesn't have the barbed denouement that characterizes Greene at his best—it's feather light all the way. Oswald Morris' black-and-white location photography gives a glimpse of what Havana was like in the fading days of Batista, and Guinness is superbly understated as always. Two problematic casting decisions mar the polished flow: Morrow is too old and all wrong as the sheltered daughter, and Ernie Kovacs blows up his part as a sinister military man into a caricature that threatens to sink the film. No extras.
Click Here to Talk About Movies at Metro's New Blog
Send a letter to the editor about this story.