02.11.09
home | metro silicon valley index | movies | current reviews | dvd review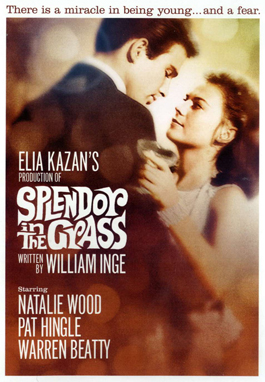 Splendor in the Grass
One disc; Warner Home Video; $19.98
Reviewed by Michael S. Gant
Every old movie I see these days seems to reverberate with echoes of America's first Great Depression. Splendor in the Grass, made in the good times of 1961 but set in the edge-of-the-apocalypse years of 1928 and '29, includes ominous references to the impending collapse of the stock market, an event that destroys the fortunes of the Stamper family of small-town Kansas. Dad (played with milkshake-sucking Daniel Day-Lewis robustness by Pat Hingle) is an oil wildcatter with a trampy daughter (Barbara Loden) and an all-American football-slinging son, Bud (Warren Beatty in his first screen role). Bud fancies a pretty girl, Deanie (Natalie Wood), from a less-well-off family. As the passion between the high school sweethearts mounts, Bud wrestles with the morals of heavy petting. Should he go all the way and face the sanctions of an outraged society or hold back and risk the madness that comes with thwarted teenage sexuality? I'm not overstating the dilemma in Elia Kazan's potboiler (from a script by playwright William Inge). After a lot of feverish but chaste embraces, Bud decides that he must remain pure and cut off the relationship. The result? Deanie quite literally goes mad and ends up in an asylum. Meanwhile, Bud goes to an Ivy League college, ignores his studies, starts drinking and ends up getting a pizza waitress pregnant. Adding financial insult to psychological injury, Dad loses it all in the Crash and takes a header for a hotel window. Needless to say, the hidden message may be that teen sex isn't such a bad thing after all (or prostitution for that matter; Dad offers Bud a trip to the brothel, and he clearly should have taken him up on it). Economic harbingers aside, the film is a soap-operatic barn-burner, distinguished mostly by the luminosity that the young Wood brings to every shot and by Loden's streaking-comet performance as the dissolute sister hell-bent on self-destruction. Loden appeared in only a handful of movies but did win a Tony for her part in After the Fall on Broadway. She pretty much disappeared after becoming Kazan's wife but directed an art film, Wanda (1971) that was well received. This is a rich year for Wood fans. Splendor in the Grass can be had separately or in a Signature Collection Edition ($59.98) along with Sex and the Single Girl, Inside Daisy Clover, Gypsy, Bombers B-52 and Cash McCall.
Click Here to Talk About Movies at Metro's New Blog
Send a letter to the editor about this story.