02.11.09
home | metro silicon valley index | columns | live feed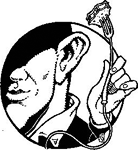 Live Feed
Mrs. A's Salsa Buena
By Stett Holbrook
WAY BACK when I was a student at Saratoga High School, Leah Aguayo was everyone's favorite teacher who taught everyone's favorite class: ceramics. Working with clay and throwing pots offered a welcome break from the grind of algebra and biology.
Back then most teachers seemed too strict, too out of touch or too boring, but Mrs. Aguayo was cool and understanding. She was part teacher and part big sister who allowed students to stretch their creativity in a supportive environment. Kids that weren't jocks or on the debate team found a reason to look forward to school because of her class.
And then there was the food. Mrs. Aguayo regularly brought in snacks and held potlucks with students, making her class feel like a home away from home. Or at least that's what I heard. My dad wouldn't let me take Mrs. Aguayo's class, because he thought that ceramics was a frivolous elective and that I'd be better off taking hard-nosed subjects like computers or government. So I experienced Mrs. Aguayo vicariously through my friends, and I was envious.
Long after I graduated from Saratoga High, Mrs. Aguayo, now 53 and in her 28th year of teaching, continues to attract students to ceramics and enliven her classrooms with good food. "I have a need to feed my kids all the time," she says. "Food in my opinion builds a sense of community. It's something that [helps me] connect with my students."
Her homemade salsa was especially popular with students, and one year a few of them suggested she sell it commercially. Yeah, maybe, she said. But her students didn't let up. "They hounded me," she says.
In an indication of the affection she inspires in her students, they pressed her to explore the intricacies of marketing, shelf life, bar codes and nutritional analysis. Two students designed a label for the salsa. Pushed by her students and hawking a good product, she went into the salsa business with her husband, Rafael Aguayo, and Mrs. A's Famous Salsa Buena was born. Her first sale was the Ben Lomond Market, her hometown grocery store.
"I walked up with a tub of salsa and a bag of chips, and I said, 'Taste this,'" she recalls. They did, and they liked it and started to carry her salsa. Five years later, she now has about 60 accounts, including Whole Foods, Cosentino's Market, Robert's Market in Woodside, Lunardi's Supermarket, Gene's Fine Foods in Saratoga and New Leaf Community Markets in Santa Cruz and Half Moon Bay.
Five years in, she's finally breaking even. She has two salsas on the market: hot and medium. Both are pretty mild for me, but they're great, fresh-tasting all-purpose salsas made from puréed canned organic tomatoes, onions, jalapeños, garlic and cilantro. She's also working on a new one: mango-pineapple salsa.
"All this happened because of my students," she says.
I couldn't take ceramics in high school or enjoy Mrs. Aguayo's cooking, but I can make up for it now by eating her salsa. And now everyone else can enjoy it, too.
For more information go to mrsafamous.com.
Send a letter to the editor about this story.