02.11.09
home | metro silicon valley index | movies | current reviews | film review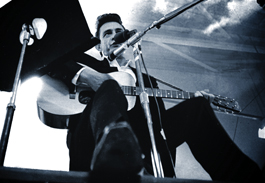 PRISON SONGS: Johnny Cash's famous Folsom Prison concert is the subject of a new documentary.
Stripes
The Cinequest feature 'Johnny Cash at Folsom Prison' offers notes on the birth of outlaw country
By Richard von Busack
THE THOUGHT has been attributed to George "Machine Gun" Kelly: "Everyone in jail is innocent, and yet everyone in jail knows that there are people who belong in jail." The inspiring, troubling documentary Johnny Cash at Folsom Prison, which plays at Feb. 26 and 28 and March 6 at Cinequest, concerns the historic concert on Jan. 13, 1968. The film was made to promote a recent reissue CD of the concert, allowing outtakes and Cash's prohibited language. Despite the openly commercial aspect of the documentary, it's too good to be missed. The film records the background of an immemorial pop culture moment—the birth of outlaw country—but it also delves into issues of rehabilitation and guilt. At the time, Cash was a tormented musician overcoming his drug habit. A shot of Cash, visibly tweaked on TV's Pete Seeger's Rainbow Quest, reminds us of the days when Cash sang about the "blisters on his throat from those little white pills." The Folsom concert had the aspect of a publicity stunt. The record company was unenthusiastic. Cash was playing at the prison mostly because of his early success with a rewritten version of Gordon Jenkins' tune "Crescent City Blues." Visually, Johnny Cash at Folsom Prison adds as much as possible to very little existing footage, along with autobiographical audiotapes recorded by Cash. Three-D imaging blows up the black-and-white photos taken by the pugnacious photographer Jim Marshall, who says, "There was no asshole telling us where we could go or not." Sometimes animation fleshes out the visuals, as in a rousing cartoon version of Shel Silverstein's hanging ballad "25 Minutes to Go." The lyrics to old-time murder song "Cocaine Blues" are illustrated in the style of Nashville's Hatch Show Print posters. Whirling around a page, they spell out perhaps the most satisfying couplet in all of Texas music: "Willie Lee, your name is not Jack Brown/ And you're the dirty hack that shot your woman down."
The film shows June Carter Cash's nerve in taking the stage in front of an audience of very frightening men. But it also follows two of these men in attendance. One was the singer and convict Glen Sherley, composer of "Greystone Chapel" and later a resident of Monterey County. Sherley would be to Cash what Jack Henry Abbott was to Norman Mailer. Cash was "a misplaced preacher," observes a friend; Cash's idealism made him think Sherley could survive a stint in the spotlight. Meanwhile, Folsom alumnus Millard Dedman, now a peaceable elderly man, is followed in his new life—while being shadowed by his dangerous old life. Cash's minimalist folk/rockabilly and his aura of mourning was never less than convincing. Unlike Merle Haggard, Cash was never a serious time server. As seen in Walk the Line, Cash had watched a movie titled Inside the Walls of Folsom Prison. That's what gave him the idea to mythologize the lockup in song. There is no question about the intelligence and integrity of Cash's music. But Johnny Cash at Folsom Prison leaves you with more disturbing questions. As the Hag says, "Wealthy men aren't found in prison." What is to be done about our American gulag? Do we really mean it when we say a man who serves his time is forgiven?

JOHNNY CASH AT FOLSOM PRISON plays Feb. 26 at 5pm at San Jose Rep, Feb. 28 at 9:30pm at the California Theatre and March 6 at 12:15pm at Camera 12. Cinequest takes place Feb. 25–March 8. For full info, go to www.cinequest.org.
Click Here to Talk About Movies at Metro's New Blog
Send a letter to the editor about this story.