02.11.09
home | metro silicon valley index | movies | current reviews | film review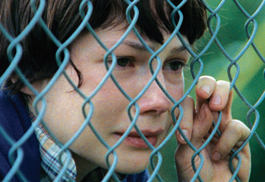 DON'T FENCE HER IN: Michelle Williams plays a rootless girl on the movie in 'Wendy and Lucy.'
Lucy Come Home
Michelle Williams and her dog head for the open road in 'Wendy and Lucy'
By Richard von Busack
IT'S NOT that Wendy and Lucy is mediocre; at about 80 minutes long, it doesn't have the time to be. Wendy and Lucy is a gently made, simple story, with a great deal of compassion in it. As in director Kelly Reichardt's previous feature, Old Joy, the Oregon surroundings mellow things out, while the sense of brewing financial trouble keeps the tension going.
The craftsmanship shows in even the earliest tracking shots. This is the kind of movie that's usually given the small-camera treatment, for budget reasons or to impart more grit. Portland's Reichardt and her two credited cinematographers (Sam Levy, with assistance from Greg Schmitt) worked hard on the composition and color.
If you've ever had the foolish reverie of getting a sleeping bag and heading to the rail yards to hop a freight train north, Wendy and Lucy idealizes that dream even while not succumbing to it. That's true in the film's first shot—an early-morning overlook at the freight yards, with the cars stacked high with fresh, yellow-pine boards.
At one point, we see heroine Wendy Carroll (Michelle Williams), wearing a small blue riding hood, in a open boxcar cruising among the dreamy, foggy trees.
Reichardt provides further realism in the use of natural sound, with occasional unsynced noise, such as the dubbing of a blare of train horns over talk at a campfire. (The title of Jon Raymond's source story is "Train Chorus.")
Finally, as in Old Joy, Wendy and Lucy is about broke people trying to cope. Some poorer members of the audiences who see Wendy and Lucy will think this is a great movie on those grounds alone. Maybe they'll just be responding to the attention they get so rarely.
Having left her family back in Muncie, Ind., Lucy is driving an old Honda Accord to the fisheries in Alaska. With her is her part-Lab Lucy, played by Reichardt's own dog. In a nowhere town in north Oregon, Wendy's car refuses to start. The local mechanic (Will Patton), a lazy, breezy soul, diagnoses expensive trouble. Having lost her car, Wendy soon loses Lucy. She's stranded, broke, befriended only by an old security guard who lets her use his cell phone.
Until the sustained close-ups at the end of the film, Reichardt keeps her camera at a distance from Wendy. The setups have the sharpness of Edward Hopper paintings, with the heroine perched in the shadows outside an illuminated Walgreens parking lot. Alone at night, she crosses the road to return to the sharp, Ed Ruscha–like angle of a gas station, where she washes and changes her clothes.
Early on, Lucy discovers a group of train hoppers around a fire. The faces look right—grubby, one pitted with metal studs. The professional actor among them (Will Oldham, also a noted musician) looks right until he starts to stand up and act. He orates a story about how he got in trouble up in Alaska for driving some heavy equipment while stoned.
Later, when Wendy is popped for shoplifting—an impulsive action, to feed her dog—John Robinson, playing the market's clerk, tries to take the high ground on her. He's clearly grandstanding for the camera. "The rules apply to everyone," he says, as if he were playing a district attorney onstage. And Patton too does a little capital-A acting, placing a bet with his bookie on the phone while Wendy waits for the bad news about her Honda.
In places like this, the film starts to break up a little. If Reichardt wants to escape the ghetto of being a great regional filmmaker, she's going to have to figure out a way to co-ordinate the acting styles in her films. She ought to rehearse the nonprofessionals to the point where they sound natural, or else cut their dialogue down to a bare minimum.
As for the star, Williams can hit the notes; she's slight, thin-legged, a serious waif. We can worry about her easily enough. The problem is that nothing sticks out more than poised acting in a naturalistic film.
The situations in Wendy and Lucy are plausible. The finale is ancient-movie effective, a scene that would have worked as well in 1909 as in 2009. That might be enough for some audiences, who won't miss the answers to the questions. What is Wendy running from? Where is she running to?
In Agnès Varda's 1985 classic, Vagabond, we followed a similar figure, Mona, played by Sandrine Bonnaire; her fate was less happy than Wendy's, even. But Bonnaire did look like she had been on the road. What happens to Wendy here is never her fault. She has none of the usual problems of a wanderer; no tendency for drink or drugs, no alienating tattoos, no desire to hook up with men or women.
It is in the film's interest to present the heroine as an innocent version of everyone to whom we refused some spare change. We can watch her coping with her losses; we can feel the panic of what might happen to us if we ran out of money, or tried to make a break for it. But she's a kind of paragon. She doesn't hustle, or press for an advantage. And even when we're up close to her we're seeing her from a distance.

WENDY AND LUCY  (R; 80 min.), directed by Kelly Reichardt, written by Reichardt and Jonathan Raymond, photographed by Sam Levy and starring Michelle Williams, opens Feb. 13 at Camera 3 in San Jose.
Click Here to Talk About Movies at Metro's New Blog
Send a letter to the editor about this story.