02.11.09
home | metro silicon valley index | music & nightlife | band review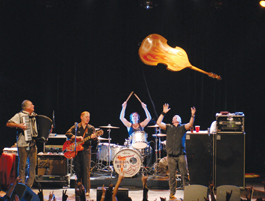 BASS SHUTTLE: The Reverend Horton Heat band untethers its instruments onstage.
Heat Check
The Reverend Horton Heat stays one step ahead of expectations
By Steve Palopoli
PEOPLE ARE always asking the Reverend Horton Heat what he's going to do next. After 20 years in the music business, he's knows the question is not idle curiosity. From label execs to fans, there is no shortage of extremely interested parties. And of course, he knows all the right things to say. But he also knows what he'd really like to say.
"I don't have the slightest idea," says the Rev in the fantasy conversation, played out in a telephone interview. "I'm going to go in and record a song that I think is good. And then the song I think is good is going to suck, and the one I took three minutes to write is the one everybody is going to like."
Heat, who plays the Voodoo Lounge on Sunday, might have been able to get away with saying that when he first gave up the secular moniker Jim Heath for a flock-and-roll stage name big enough to cover both his combo and his own bad self.
His early records on Sub Pop—released at the height of the label's '90s grunge sweepstakes—were as ridiculous as they were highly flammable. Rockabilly jammed into punk was then jammed by tongue firmly into tongue-in-cheek songs like "Wiggle Stick," "Bales of Cocaine" and "Nurture My Pig."
The cocktail mix of snarl and snark has continued through the years on songs like "Big Red Rocket of Love" and "Couch Surfin," but success has had a sobering price—literally.
"People take every little damn thing we do seriously," he says.
What they take especially seriously is the idea that Heat makes psychobilly music. The word is almost universally attached to him in some way, and his sound is most often grouped with the Cramps (RIP Lux Interior—see page 77). Now, granted this is partially his own fault for playing psychobilly, not to mention writing what would go on to be one of his most popular songs, "Psychobilly Freakout."
And yet "psychobilly" is a pretty lousy description for a band that plays such an odd mixture of rockabilly, swing, punk, country, surf music and even metal. Neither Reverend Horton Heat nor the Cramps play by the same rules as do the bands in the notably international psychobilly scene like the Meteors and Godless Wicked Creeps.
"I go out of my way to explain to people that we are not a psychobilly band," Heat says. "Some of my songs obviously draw from that, but we do things a psychobilly band would never do."
If anything, the Rev seems to be less and less interested in doing the things that are expected from him. In 2007, he cut a Christmas album featuring traditional songs like "Frosty the Snowman" and "We Three Kings."
Last year, after hooking up with Hammond organist Tim Alexander and drummer Todd Soesbe under the name Reverend Organdrum, he put his own money up for their album Hi-Fi Stereo, a combination of jazz, blues and Heat's signature guitar sound. Playing with the side band had him waxing nostalgic for the early days of Reverend Horton Heat.
"I was playing little bitty clubs, either by myself or getting a little pickup band together," he remembers. "Then it grew and it grew and it grew."
Signing to Sub Pop was his big break, and though maybe he seemed an odd fit for the label at the height of Nirvanamania, he still remembers it as a pretty incredible ride.
"When I listen to the albums on Sub Pop, there might be things here or there that I could have done differently, but sometimes I'm kind of surprised. They're a little bit cooler then I remember."
In the mid-'90s came the big time, signing to Interscope for his most popular and musically brutal record, Liquor in the Front, produced by Ministry frontman Al Jorganson. The band also made prime-time TV on The Drew Carey Show, before confounding expectations time and again with records like It's Martini Time, Spend a Night in the Box and Lucky 7.
Now the Rev is back in the studio. He's trying not to say too much this time about what's next, but one thing is certain: while the world make take Reverend Horton Heat all too seriously sometimes, he hasn't changed his approach.
"We always try to be quick in the studio. It's more of an old-school mentality, how they used to do a lot of the rock & roll records in the '50s," says Heat. "It wasn't like now when Axl Rose is in the studio for 10 years."
REVEREND HORTON HEAT plays Voodoo Lounge, 14 S. Second St.,San Jose on Sunday, Feb. 15. Throw Rag and the Shitkickers open at 8pm. Tickets are $25, available at ticketweb.com.
Send a letter to the editor about this story.