02.11.09
home | metro silicon valley index | music & nightlife | band review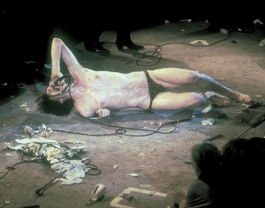 HE WAS THE MAD, MAD DADDY: Lux Interior bared all in his songs, almost all onstage.
R.I.P., Lux Interior
By Steve Palopoli
"Well if you can't dig me, you can't dig nothin'," sang Lux Interior on his statement song "Garbageman," from the Cramps' 1980 debut album, Songs the Lord Taught Us. "Do you want the real thing, or are you just talkin'?"
Lux, who died Feb. 4 of a pre-existing heart condition in a Glendale hospital at the age of 62, was the real thing. Born Erick Lee Purkhiser, and presumably changing his name because he wanted to be a rock star rather than a presidential assassin, he founded the Cramps in 1972 with his wife, Kristy Wallace—better known as Poison Ivy. Together they changed the future of rock music by kicking its sorry, bloated ass back into the golden age of truly dangerous rock & roll.
Though they labeled themselves "psychobilly" early on in their career, it was more a mission statement than a sound. Postmodern and powerful enough to make rockabilly cool for the first time to the punk kids, the Cramps had endless shock value, from their sleazy image to songs like "All Women Are Bad" and "Bikini Girls With Machine Guns" to the incomparable sight of Lux jamming a microphone into his mouth while he sang and then pushing it into his all-too-revealing black undies.
But Lux and company were never fully appreciated for the musical education they gave the world. When these guys covered a song, it was a big deal. And who knows where they even dug up some of this stuff at the time, but they introduced a whole new generation to San Jose's Count Five, as well as Hasil Adkins and The Phantom. There are entire series of compilations, like Born to Be Bad and Songs the Cramps Taught Us, solely based on recirculating the original versions of the songs they popularized.
It is with a heavy heart that Cramps fans everywhere say goodbye to the original Mad Daddy, Lux interior. If you couldn't dig him, you couldn't dig nothin.'
Send a letter to the editor about this story.