02.11.09
home | metro silicon valley index | columns | style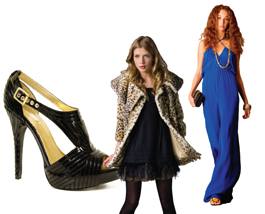 J'ADORE: Black patent leather heels by Report Signature look stunning with a cocktail dress by Juicy Couture (center); or emphasize a long line with a Geren Ford halter gown (right).
Style
Standing Tall
By Alexis Mendoza
VALENTINE'S DAY is this weekend, that dreaded day when girls want to look their sauciest in front of their mates. Women often find this one of the most intimidating days of the year, but thankfully there are hundreds of fun, flirty and sassy little dresses on the scene this February to fall in love with.
This date-centric day can be daunting for those who don't dare to don sexy styles on an ordinary basis, but it doesn't have to be that scary. Color is always a statement maker, so choose your hues with care. Picking out a color that is bold and fun will not only help catch the eye of that special someone, but it will be wearable for the rest of the season as well.
For women who feel that they haven't quite fulfilled those New Year's workout resolutions, there are plenty of fabric solutions to highlight the curves you want, and hide the ones you don't. A-line dresses are hot on the scene on Cupid's day, a perfect solution to give an hourglass silhouette to a shapeless midsection. Flirt-diva Betsey Johnson has tapped into the trend of using layers underneath A-line dresses, which is an ever-popular option that can be found in hundreds of cuts and colors.
Women who have worked hard to fit into those little black dresses on the 14th can rest assured that their hours on the yoga mat and treadmill will be rewarded. There is no need to fear a nice tight dress to show off a toned figure, so if you've got it, flaunt it. For the perfect taut outfit, lace and satin are popular material choices for a number of designers this season. Getting those come-hither looks does not require a ridiculous bottom line either. Designers like BeBe and stores like Forever 21 are chock-full of great looks for all kinds of body types that won't break the wallet.
Of course, the No. 1 item on every girl's shopping list this Valentine's Day should be a pair of the seductive sky-high heels. There is no better tool to bestow sexy curves and good posture than a pair of unforgettable stilettos. Heels have a lovely way of raising the glutes, molding the calves and, lest we forget, the confidence that comes when strutting around in a pair. Those girls who are more worried about wearing heels than being bitten by a shark can relax. With the right pair of pumps, anyone can keep from eating pavement. For first-timers, pick a pair of heels with a platform, or better yet, a wedge. The extra layer on the bottom of the shoe keeps it balanced and makes walking easier. Being "too tall" is no excuse either, as there are tons of fabulous kitten heels to do the job without making your date look like a smurf.
The Overlay Dress by Loeffler Randall is provocative but maintains a sense of class with a sweet organza sheath over a curve-hugging little black dress. If something a little more funky is on the menu, the Color Block Strapless Dress by Jay Godfrey and Feather Hem Dress by Juicy Couture are appealing options. Betsey Johnson never fails to bring the sexy back, especially her Chiffon Charade Ruffles Dress. Pair any of these frocks with Patent Leather Pumps by Report Signature for a fantastic Valentine's Day look.
This is the one time of year to look drop-dead gorgeous. Slip on that slinky little black dress, spritz on your favorite perfume and climb into those heels—the air is better up there.
Send a letter to the editor about this story.