02.13.08
home | metro silicon valley index | movies | current reviews | film review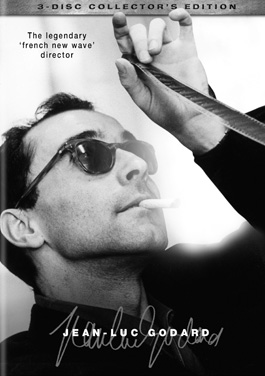 Godard's Enigma
A new box set of four later Godard films shows that the French director still poses a riddle
By Richard von Busack
THE LEGENDARY 'French New Wave' director" says the cover, helpfully. Oh, that Godard. Here are four beautiful films from 1982–93; each one as intractable as the Rock of Gibraltar. Hélas Pour Moi (Oh, Woe Is Me) is the title of the most recent effort (1993), but it could fit the entire collection. The disillusioned director, plagued by questions of the death of cinema and the death of God, arranges his figures for the best lighting and indulges his love for rhetoric and classical music.
Passion (1982) is the glossiest film in the set. It counterpoints the oppressed workers in a small French town with the frustrations of a Polish film director (Jerzy Radziwilowicz)—himself just an ordered-around employee, distracted by news of the Solidarity movement in his native country. This director is immersed—or rather, enchained—in a breast-heavy but otherwise useless movie that seems to be one long tableau vivant. Godard knows well the swoon of the culture vulture when seeing masterworks by Goya and others restaged by girls who seem to have escaped the Folies Bergère. Outwitting that reaction is the essence of this movie's wit.
The other Raoul Coutard–shot film in this collection is arguably the most rewarding: 1983's Prénom: Carmen, a sexually explicit/postmodern/modern-dress restaging of the fatal coupling of a thieving harlot (a musky Maruschka Detmers) and a callow soldier, who are linked after a ridiculously aestheticized, comic yet cool bank robbery. Here are nods to different versions of the story, from Bizet to Otto Preminger; essential to the film is the idea of the word "perhaps" as the most sexually fraught word a woman can utter. Meanwhile, the cranky filmmaker Uncle Jean (Godard himself) malingers in a hospital, trying to keep his hands clean of the whole affair. Detective (1985) is something I should like to see a few more times before weighing in on it. At first view, it seemed unusually slack, unusually cryptic and mostly there to record Godard's growing realization that home video might displace cinema. (Worse, the master cinematographer Raoul Coutard is missing in action.) Hélas Pour Moi is about God, who loves us and kills us. A vaguely Apollonian deity (Gerard Depardieu) descends on Earth to seduce a somewhat plain but faithful married woman. A demiurge? God himself? "Looking at the invisible is exhausting," says a female commentator, and one can rely only on the visible here: the faces and shapes of women in doorways, windows and flare of light. Godard discovers new ways to display women (such as the contortionist serving a cup of coffee in Passion).
This collection—sometimes sublime, sometimes infuriating, sometimes enlightening, sometimes didactic—includes a 30-minute documentary, Jean-Luc Godard: A Riddle Wrapped in an Engima by Gidion Philips. The commentators do an agile job explaining the director's methods, if not meaning. Who can?

JEAN-LUC GODARD BOX SET; three discs; $34.98; Lionsgate
Send a letter to the editor about this story.