02.13.08
home | metro silicon valley index | movies | current reviews | film review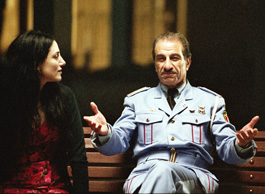 ACROSS THE DIVIDE: Dina (Ronit Elkabetz) finds a connection with Egyptian band leader Tewfiq (Sasson Gabai) in 'The Band's Visit.'
Band Apart
Egyptian musicians wander into a strange Israeli village in 'The Band's Visit'
By Richard von Busack
THIS IS THE romantic movie you want to see Valentine's Day weekend: The Band's Visit, an Israeli comedy of estrangement and loneliness that isn't a bit depressing. The exquisite underplaying by the lead, Sasson Gabai, and the ships-that-pass-in-the-night love affair recall, in a certain way, the mood of Casablanca. Very accomplished first-time director Eran Kolirin's comedic tempo is like Jacques Tati or Jim Jarmusch. He celebrates the communicative power of music in wary, morose people. The Alexandria Ceremonial Police Orchestra is an eight-piece Arab classical ensemble from Egypt. The group arrives at a bus station somewhere in Israel, dressed in caps and natty sky-blue uniforms. It has been booked to play at the opening of an Arab cultural center. The pressure is on the ensemble members, and not just because they're representing their country and what Kolirin deems "the cold, correct peace" between the two nations. They also may be on their last legs, soon to be victims of budget cuts. They take the wrong bus. When they arrive in a small town, an outpost in a desert wide enough for Sergio Leone, they have no idea where they are. A loafer at the only cafe says, "Arab cultural center? Here, there is no Arab culture; there is no Israeli culture; there is no culture at all." It seems to be a planned community that someone had big ideas about, once. A monumental row of streetlights march into horizon with nothing underneath them. The centerpiece is a squat block of apartments among which two or three businesses eke out a living. The cafe is run by Dina (Ronit Elkabetz), a dryly self-amused divorcee. The youngest and most devilish of the group, Haled (Saleh Bakri), perks up when he sees her and tries to make time with her. He has enough English for the attempt, as when we saw him earlier, macking on a female ticket seller at the bus station: "You have eyes ... do you like Chet Baker?"
Dina has had enough of macho boys, however, and shows more interest in the band's leader, Tewfiq (Gabai) a sad, solemn, liquid-eyed man in his middle years. The stranded band members are parceled out for the night between Dina and another household, a married couple in terrible midspat; the wife is none too fond of Arabs. Dina and Tewfiq go out for a drive to a falafel place and rest in a bare square of pavement that counts as the town park. Meanwhile, across town, the amorous Haled muscles his way into a double date at a skating rink, where Napoleon Dynamite levels of unfortunate times break out.
Shadowing these marooned characters is the sense of history overshadowing the present. When they dine in the restaurant, they're reproached by photos on the wall of the Six-Day War. The sensational Elkabetz (Late Marriage)—like a dark-haired Kate Winslet with Dietrich's low voice—has a late-night conversation about the romantic Egyptian movies she used to love, made in the days when Omar Sharif was a matinee idol. I suppose what sharpens this romance, and makes it pierce, is the way it looks backward to an era of wine, music and cinema, which all may be on its way out in the Arab world.

THE BAND'S VISIT (PG-13; 87 min.), directed and written by Eran Kolirin, photographed by Shai Goldman and starring Sasson Gabai and Ronit Elkabetz, opens Feb. 15 at Camera 7 in Campbell.
Send a letter to the editor about this story.