02.13.08
home | metro silicon valley index | movies | current reviews | film review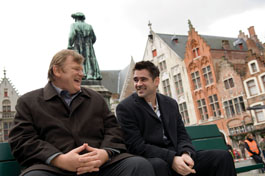 Photograph by Jaap Buitendjik
TOURIST TRAPPERS: Gunmen Ken (Brendan Gleeson, left) and Ray (Colin Farrell) take in the sights 'In Bruges.'
Canal Zone
'In Bruges,' tough guys play at being tourists while waiting for their next job
By Richard von Busack
THE STORY about the boys throwing rocks at frogs—the boys throw in sport but the frogs die in earnest—describes the difference between violence in a play and violence in a movie. The greater level of realism in a movie takes what might have been something fanciful and makes it brutal, even repulsive. As in David Mamet's odd policiers and gangster films, In Bruges can never get the balance right between sport and earnestness. The setting stands out in this off-putting, bloody buddy pic. Director/writer and famed playwright Martin McDonagh celebrates the city of Bruges in Belgium. It's supposed to be undiscovered, according to a line here; the joke has it that if it were anywhere else than a crap place like Belgium it would draw hoards. (Actually, I've heard it's a tourist zoo already.) Two Irish Londoner gunmen—Ken (Brendan Gleeson) and Ray (Colin Farrell)—are on vacation from their last job; they've been sent to Bruges until the heat's off. Both of them are a bit uneasy. Their boss—presently a Charlie's Angels–like voice on the phone—isn't the sort of man who does favors. Being a hearty lout, Ray gazes upon Bruges, with its silver fogs and spires, and pronounces it "absolute rubbish." Ray knits his black Kabuki eyebrows trying to figure out what anyone sees in it at all, and then goes out to find several pints and a girl. The girl is Chloë (Clémence Poésy), a hanger-on drawn by a local film in production. As per the satire in Living in Oblivion, the scene being shot features a dwarf (Jordan Prentice) in a dream sequence. Killer, lady and dwarf spar—wittily; Chloe turns out to have a secret or two of her own. Gleeson's Ken is the older, more experienced gangster. He sees what's around him and is genuinely edified. He spends his rest periods flat on his back, reading a vintage paperback so old it has the price on it in shillings. The two gunmen make a pretty good comedy team—a calm silverback and a jittery baboon. As Ken is the Rick Steves of this operation, he hauls Ray to the Basilica of the Holy Blood. The two also observe the fat American tourists who will probably die on the way to the tower of the Belfort. On another journey, they stop at the Groeningemuseum, which is actually not a collection of Simpsons paraphernalia. Both stop to look appalled at the seriously appalling 1498 painting The Judgment of Cambyses by Gerard David. Ray thoughtfully describes this and the other paintings as "rubbish by spastics," but he is stirred by Bosch's Last Judgment. It gives his Catholic soul the willies. This is foreshadowing; finally, we see how very badly Ray's job went wrong.
In a small part, Yuri (Eric Godon), the local illegal ordnance dealer, is a stand-out; we can take his darkness and danger seriously. McDonagh's quips liven the film as much as the scenery does. But the handling of the violence seems like that line about jesting at scars if you never felt a wound. The clip used from Welles' Touch of Evil says it all: a movie this anxious to be an American actioner might have taken it easy on the Yank jokes. And a movie with aims this small ought not to make fun of a dwarf's stature.

IN BRUGES (R; 107 min.), directed and written by Martin McDonagh, photo-graphed by Eigil Bryld and starring Colin Farrell and Brendan Gleeson, opens Feb. 15 at Camera 7 in Campbell, CinéArts Santana Row and CinéArts Palo Alto.
Send a letter to the editor about this story.