February 14-20, 2007
home | metro silicon valley index | the arts | stage | review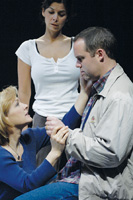 Photograph by Dave Lepori
High tension: Danielle Thys (left), Dena Martinez and Danny Wolohan tell tales of twisted love in 'Gibraltar.'
Love's Labors
Octavio Solis' 'Gibraltar' tracks the dangerous currents of love gone wrong
By Marianne Messina
POOR ROMANTIC LOVE—we sure expect a lot from it, setting it right up there with science and technology in our iconography. And when it falls from grace it can incite murderous repercussions, as Octavio Solis shows us in his 2005 play Gibraltar, now in co-production with Thick Description at San Jose Stage. The play opens on two souls tortured in love's wake. Amy (Dena Martinez) has just lost her husband to a sailing accident (or not accident). As she sits on the white mattress, center floor (a tilted, wood-slatted platform that looks more like a pier), her new companion Palo (Johnny Moreno) tells tales of love gone wrong. Guiding us through the cuentos, or tales, of twisted love like the ghosts of lovelorn past, Amy and Palo remain onstage among the characters, narrating the painful stories and dialoguing with each other.
Nor do they stop at narration. They jump into the scenes to diddle with the outcomes like Greek gods, each according to his or her philosophy. The results make for an engrossing dialogue about what we demand (fidelity for example) from love—or as police Sgt. Taylor (Danny Wolohan) refers to it: "the rules" of love. In the first story, dock worker and male model Steven (David Westley Skillman) meets Francesca (VIVIS), the woman who jilted his father and caused (as Steven sees it) his father's subsequent suicide. Palo starts to make it a story of revenge, but Amy interrupts to veer it toward understanding and closure. If this play goes to film, the part where Steven poses stark naked for Francesca's painting class will set off the NC-17 brigade. But this and several (fully clothed) simulations of sex infuse the stories with the same gritty energy that makes the emotions around love so strong and dangerous.
The tales, all gripping, all dripping with questions about love and its aftermath, include the angry policeman whose estranged wife, Sharon (Danielle Thys), has taken out a restraining order against him, and a loving husband Jackson (Michael Bellino) nurturing his wife, Dot, through Alzheimer's disease (an incredible job by Joan Mankin as Dot). Amy, Francesca and Dot all paint, and an easel with blank canvas, the only other set piece on this all-white stage, is matched behind by a white lighting screen, another framed canvas of hues that change throughout the show. The sparse but creative set design by Melpomene Katakalos (under director Tony Kelly) suggests any number of themes, from subjective reality to the void to the call to create.
Solis paints, like his heroines, but in the imagery of words. In Amy's lament at the beginning of the play, she compares ship sails catching the light to "moths on fire" and describes the people at her husband's funeral as "circling through the pews like wreathes to greet me." Many images, like "sylphs in formaldehyde," catch you by surprise. Lovely as they are, Solis' poetic descriptions often beg to be savaged by the mundane, by acting that ignores their beauty lest they ring pretentious. But all too often his images are sung out ceremoniously in that wistful poetry-reading voice meant to inject awe or suggest great moment. This just proves there's such a thing as having too much reverence for a playwright's language.
Despite this minor distraction, which occurs most dramatically early on, the actors who play the supporting couples ground their haunted tales with riveting, concrete performances. Martinez and Moreno hit exhaustive emotional peaks and valleys. The play is dotted with humor and rich with overlapping times and realities, as Amy and Palo process their woes through interactive relationship with stories past. In a musical stroke by Solis, Amy and Palo end the play speaking together, but saying different things, as if hurled into separate trajectories from their shared collision with the anguish of love.
Gibraltar, a San Jose Stage Company and Thick Description production, plays Wednesday-Thursday at 7:30pm, Friday-Saturday at 8pm and Sunday at 2pm through March 4 at the Stage, 490 S. First St., San Jose. Tickets are $28-$40. (408.283.7142)
Send a letter to the editor about this story.