February 14-20, 2007
home | metro silicon valley index | music & nightlife | preview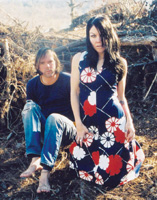 The Juice is Loose: On the set of 'Blair Witch 2: The Jucifer Years.'
Musicbox
Jucifer
JUCIFER, a hot duo out of indie mecca Athens, Ga.—although now they've taken wholly to life on the road in their rockin' Winnebago—completely abuse their instruments and tap the likes of Portishead, My Bloody Valentine, Sabbath and Slayer for inspiration. Jucifer probably don't come up on many people's radars, even though their stuff is just killer, eminently listenable, loud, raucous and fast to the point of explosion. The probable reason is because they don't fit neatly into a category, but that's the singularity that makes Jucifer so damn good. When Amber Valentine plugs in and Edgar Livengood begins insanely pounding the kit, it's like a sonic train wreck that was touched by some musical divinity. Jucifer will be tearing up the stage, blowing amps and ears with the Chelsea Smiles (who put on a simply phenomenal performance here a few weeks ago) and local rockers Trigger Renegade.
Ryan Osterbeck
Jucifer, Chelsea Smiles and Trigger Renegade perform on Friday (Feb. 16) at 9pm at the Blank Club, 44 S. Almaden Ave, San Jose. Tickets are $8. (408.292.5265)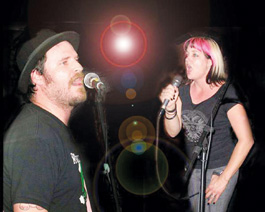 OCD: Obsessive Compulsive Duetting is a serious disorder.
The Obsessors
SUBURBAN subversives with more hooks in their music than a pro fisherman has in his tacklebox, the Obsessors are hitting Johnny V's with their retro-infused punk rock and the amps cranked. The Obsessors just hit that certain tone that's reminiscent of New Wave mashed willingly with the chops of punk. Their sound could've sat comfortably in the revolutionary musical age of the early '80s, but is thankfully being belted out at a dive bar near you. Catch the Obsessors tonight with hardcore thrashers Butterface and the Misdaringers.
Ryan Osterbeck
The Obsessors play on Friday (Feb. 16) at 8pm at Johnny V's, 31 E. Santa Clara St., San Jose. Tickets are $5. (408.947.8470)
Don't touch the violin: Concertmaster Alexander Barantschik performs on a rare 18th-century instrument when he is not conducting.
San Francisco Symphony
THE SAN FRANCISCO SYMPHONY, which has just announced plans for an enhanced presence in the South Bay next season, proves its point with a Flint Center concert showcasing concertmaster Alexander Barantschik, who will both perform and conduct.
Russian-born Barantschik, who came to the San Francisco Symphony from the London Symphony Orchestra, plies his trade on a rare 18th-century Guarnerius del Gesù violin that once belonged to the famed 19th-century virtuoso Ferdinand David and then passed to Jascha Heifetz. The priceless instrument now belongs to the Fine Arts Museums of San Francisco, which loans it to the symphony. For this concert, Barantschik has programmed two pieces by Bach (Brandenburg Concerto no. 2 and Concerto in D Minor for Oboe, Violin and Orchestra, with guest oboist William Bennett), plus selections by Mozart, Shostakovich, Britten and Piazolla.
Michael S. Gant
The San Francisco Symphony performs Saturday (Feb. 17) at 8pm at Flint Center, 21250 Stevens Creek Blvd., Cupertino. Tickets are $31-$57. (415.864.6000)
Send a letter to the editor about this story.