February 14-20, 2007
home | metro silicon valley index | the arts | books | review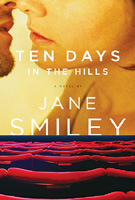 Ten Days in the Hills
(By Jane Smiley; Knopf; 445 pages; $26 cloth)

Jane Smiley has looked at the United States through the lenses of its various power centers, from real estate to academia. Now she's gone to Hollywood. Unfolding during the invasion of Iraq in 2003, her new novel. Ten Days in the Hills, charts the vicissitudes of a group of Tinseltown insiders holed up in a mansion in the hills. A director, a how-to-writer, their children and their ex-lovers all come into play in a story about the gulf between reality and fantasy. Smiley is an expert writer of dialogue, and one of the keenest plot-makers around, so the book hums along on a river of smarts, sass and cheeky references to actual Hollywood figures until it crashes into long, if eloquent, speeches about the war. It is the only false step in this intensely current novel about the erotic, but tragic, remove of a society that—as Smiley sees it—has grown all too used to viewing everything as a show.
Review by John Freeman
Send a letter to the editor about this story.