February 15-21, 2006
home | metro silicon valley index | music & nightlife | band review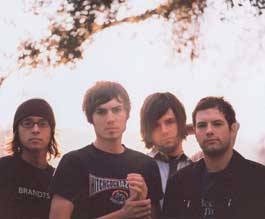 Live Forever: Augustana recorded its major label debut with Brendan O'Brien.
Fever Pitch
Augustana bridges Britpop and Americana to make a sound of its own
By Yoshi Kato
TWO EVENTS occurred at the beginning of the month that helped set the conceptual table for the Southern California band Augustana's show Sunday at the Cave in San Jose. The first was the announcement that Radiohead is headlining this year's jam band-centric Bonnaroo Arts & Music Festival. The other happened during Coldplay's concert at the HP Pavilion when it covered June Carter and Johnny Cash's "Ring of Fire" during its acoustic set.
The connection between Radiohead and Bonnaroo, and between Coldplay and Johnny Cash, explains a growing synergy animating grand Britpop and rootsy Americana. It also explains the sound of Augustana. The group was born in Greenville, Ill. (a "two-stoplight town" about 45 minutes east of St. Louis); raised in Southern California; confirmed in Atlanta; reared on the road as an opener and through exposure in television and cable shows; and is currently graduating from baby-band status with its own headlining tours. "The West Coast is going really well right now. I think there's a heartbeat in some of the cities," says singer/pianist/vocalist Dan Layus. "As we head up to the Midwest and then to the East Coast, I don't know what we'll be able to pull in out there. That's probably going to take a while."
Augustana, which lead guitarist Josiah Rosen understood to mean "a small glimpse of hope" in Latin, first came together when Californian Layus hit the heartland to attend Greenville College. He and Rosen met there and began playing together, bringing in keyboardist Jared Palomar. The trio had relocated to California before the end of the fall 2004 semester, with Palomar switching from keyboards to bass guitar and drummer Justin South joining to complete the lineup. The quartet signed to the Epic label and recorded its debut, All the Stars and Boulevards, in Atlanta with Brendan O'Brien (Pearl Jam, Bruce Springsteen, Rage Against the Machine).
Up-tempo numbers such as the title track and the piano-driven "Boston" have an intimate epic sound championed by many a recent Britpop export. Mellower numbers such as "Wasteland" and "Sunday Best" (which is highlighted by O'Brien's guest mandolin playing), in turn, have a distinctly domestic, AAA (Adult Album Alternative) sound.
Asked about being melodic and often lyrically sensitive in a tortured, mascara-smeared rock world, Layus points out that it's often just a question of nurture as much as nature: "That stuff just comes naturally to us. I think that's probably how most bands work. I'm sure a lot of just blues-rock & roll bands, that's just what they grew up loving. It's the same thing with us."
Last year, the band built a following opening tours for the likes of Stereophonics, Embrace and Switchfoot. Having its music included in an episode of WB's One Tree Hill and the series finale of HBO's Six Feet Under also helped raise its fledgling profile. Website hits doubled and then tripled after the latter. "I guess that stuff's all stepping stones in getting our music out there," remarks Layus, who has family in Morgan Hill and whose cousin, Leia, is the lead singer of the alternative rock outfit Brea. "But it's really hard to see it actually physically change until you get out there and play some shows, like headlining shows."
Augustana, Storytold, Brea, Novice and Conway play Sunday, Feb. 19, at the Cave, 2165 Lucretia Ave., San Jose. Tickets are $9 and available at the door.
Send a letter to the editor about this story.