02.18.09
home | metro silicon valley index | columns | live feed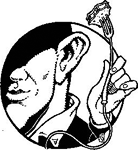 Live Feed
Root Mayo
By Ari Levaux
THOUGH I call it roasted root mayonnaise, it isn't truly mayonnaise, because it has no eggs. But like mayo, this rich, earthy, spreadable treat improves almost anything you spread it on. And unlike mayonnaise, you could make a full meal of the stuff, especially in winter.
Anyone can eat locally grown foods in summer, when the farmers market is the most happening social scene in town, restaurant menus are boasting their local ingredients and your neighbors are dumping wheelbarrows of extra zucchinis on your doorstep. During the colder months local options are much more limited, and too often boring. The dregs of winter can be enough to make an aspiring locavore throw in the napkin, but it's also an opportunity to step up to the plate.
There must be some people who, in the heat of summer, pine for baked squash, mashed potatoes and other such hearty winter foods. But most of us eventually tire of the common presentations of storage crops. That's where roasted root mayonnaise comes in.
The most common ingredients in roasted root mayo are carrot, rutabaga, turnip, celery root (celeriac), garlic and parsnip. There are many different ways you can make it, and I'm going to start by explaining the basic concept. Then I'll give you a recipe for one of my favorite versions.
Start by washing and trimming your roots, then cut them into cubes. Toss these in olive oil or the oil of your choice, and season with salt and pepper. You can also add the herbs of your choice: rosemary, marjoram, basil, thyme, oregano and lavender are good options.
Bake at 300 degrees, stirring every 10 to 15 minutes, until they're lightly browned.
Wait until they cool, put some oil in a blender and add the roots, a few at a time, blending until smooth. If it gets too thick, add more oil. Chopped raw garlic can be added at this point as well, as can herbs of your choice. When your roasted roots are blended to a smooth consistency and seasoned to your taste, it's done.
(The garlic can also be roasted with the roots, which makes it sweeter and milder.)
Many combinations of roots and herbs will yield tasty and beautiful versions of roasted root mayonnaise. One of my favorites consists of two parts carrot, one part rutabaga and one part turnip. The carrot adds sweetness, and the rutabaga and turnip contribute bitterness and spiciness. I roast the roots as described above, with oil, salt and pepper, but no herbs. I add oregano and fresh garlic in the blender.
Spread it on bread, dip chips in it or scoop a dollop on your plate beside the main event—perhaps after baking again to put on an oven-crisp crisp.
So try dabbling in roasted root mayo to pass the remaining cold, dark days. Each combination has its own flavor and color, and each is a unique reflection of the earth it came from. And soon enough, that earth will begin warming toward another summer.
Send a letter to the editor about this story.