02.18.09
home | metro silicon valley index | movies | current reviews | film review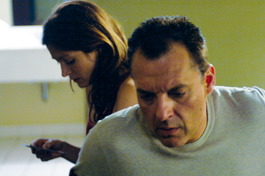 THE BIG CHILL: Tom Sizemore and Sasha Alexander star in tough, cool 'The Last Lullaby.'
Sizing Up Cinequest
Tom Sizemore's 'The Last Lullaby' is this year's festival find
By Richard von Busack
ONE OF THE most promising films at Cinequest plays at the very end of the festival (March 7–8). Tom Sizemore stars in The Last Lullaby, Based on the Max Allan Collins' short story "A Matter of Principle." This beautifully understated crime drama is class from the get-go.
Sizemore's Price is seen in the opening titles, face hanging sleepless in the dark, recalling Martin Sheen's still-in-Saigon moments in Apocalypse Now. Price rises to do some of the Philip Marlowe things in the wee hours: to monkey with a chessboard and look for a book. Out for a trip to the all-night market, he overhears some punks talking about a hostage they've taken; Price follows them, kills them and takes the girl they kidnapped—and then helps himself to the ransom.
Word gets around, and when the father of the kidnapped girl needs a woman whacked, he tracks Price down; despite his retirement from crime, he agrees to do the job. In one of Chandler's novels, Marlowe described Ernest Hemingway as someone who repeated things until they sound good. Sizemore does that too, as if he had a spot of hardness of hearing or he liked repeating the dialogue, which is artlessly artful: "This small talk is so ... small?"
With a widow's peak and some heft to the neck, Sizemore is getting to look like Bogart, and his underplayed, almost whispered performance as Price is a new mode of acting for him. Sizemore brings the authenticity, and director Jeffrey Goodman gives this compelling gunman's tale a handsome look.
It was filmed in Shreveport but has a northern prairie's chill and loneliness. Sizemore's chaotic public life is a matter of record, but the results may be what count; life has slowed him and beat him up a bit, and he's tougher-looking for it. Maybe the only good side of the Iraq war is that we'll be getting some actors who really look like they've been through something.
The festival starts on Feb. 25 (7pm at the California Theatre) with an opening-night would-be crowd-pleaser that makes the latest wave of chick-flickery look profound. My first advice for Wake: Good Bijou Phillips, cast off thy nighted colors. Phillips, who will be coming to Silicon Valley for the afterparty at Billy Berk's and Mezcal, has been in a scad of horror films and enjoys some following as a scream queen.
Wake offers a chance to break from that rut—a Harold and Maude–lite exercise. Former casting director Ellie Kanner works from producer-turned-writer Lennox Wiseley's script, which soon pushes Wake out of black comedy into soap opera. Despite Kanner's work, the casting seems the most obvious problem.
Bijou's goth-hood doesn't even go skin deep, despite her all-black wardrobe. Her Carys Reitman (Reitman, as in Ivan, as in Juno) likes to attend funerals for social recreation, posing as one of the weepers among the real bereaved. At her very first funeral, Carys gets lucky: she picks up a studly Texas veterinarian named Tyler (Ian Somerhalder).
Unluckily, Tyler is the fiance of the deceased, and the engagement ring he gave the dead girl accidentally ends up in Carys' possession through a toe-stuck-in-the-bowling-ball bit of stagecraft. First, the dead girl's family starts to wonder if Carys didn't kill the dear departed to get her mitts on the fiance. Later, Tyler himself looks like he might have gotten rid of the dead girl himself. Wake is unsprung farce, with one incident per scene. The lack of control is apparent in one scene at the Hayworth Theatre in L.A., where a modern-dress production based on Euripides' Hippolytus makes Tyler slumber. Is it because the drama is boring, or the production is boring, or is it because Tyler is a guy and can't be expected to appreciate anything without guns and car chases in it? (But wait, Euripides was a guy ...). And the allegedly wacky references (Attack of the Killer Tomatoes, for instance) are out of date, unless it's a regional joke, since Carys is from San Diego, and the Killer Tomatoes cycle is notoriously the most famous film ever made in that city. You don't want to overthink these matters.
When will San Jose get its own Attack of the Killer Tomatoes? This and just such other profound questions can be vented at Twitter, which is becoming Facebook for the time-constrained. Eventually, the critic who composes the best film review in haiku form will be the one who triumphs over his rivals; clearly the age when film fanciers had 5,000 words to mull over a masterpiece is dead.
Cinequest viewers and visitors can try boiling their prose down to Twitter.com's notoriously hard-to-compose 140 letters or less. We will harvest the best of the so-called tweets for distinction. Example being, if Cinequest aired a documentary on Walter Reed, "A man, a plan, a canal: Panama" would likely be the winner. Or not.
Speaking of Juno: Diablo Cody is coming to Cinequest on March 6 for a Maverick Spirit Event at San Jose Rep. Since this corner found that Juno made his hair hurt, here are a few items about the screen-authorette in different months of her "Binge Thinking" column in Entertainment Weekly, in lieu of an interview: "I have an apartment in the yuppie-choked wilderness of Laurel Canyon. ... A Chihuahua nips at my ankles. ... I've been watching the new 90210 (or as I like to call it, 90210 2.0) religiously." Keep up the good work, homeskillet!
  CINEQUEST runs Feb. 25–March 8 in downtown San Jose. See next week's Metro for complete details or check out www.cinequest.org.
Click Here to Talk About Movies at Metro's New Blog
Send a letter to the editor about this story.