02.18.09
home | metro silicon valley index | movies | current reviews | film review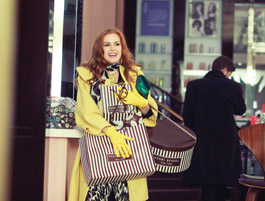 Photograph by Robert Zuckerman
ON THE INSTALLMENT PLAN: Isla Fisher can't control her consumption gene in 'Confessions of a Shopaholic.'
Bad Credit
Isla Fisher goes shopping in 'Confessions,' but the joke falls flat in broke economy
By Richard von Busack
FROM THE POSTERS for Confessions of a Shopaholic, Isla Fisher looks like Amy Adams' twin sister. Up-close, she's a stranger creature, nearer to Lucille Ball. In slo-mo, director P.J. Hogan shows off Fisher's prodigious jiggle-power. It isn't the same as glamour, though. Her wardrobe consists of crazily beaded tops, shaggy cavewoman fake furs and voluminous upholstery ruffles that might revive the old jibe "Who shot the couch?" These are all no doubt very expensive clothes, but they're at the hysterical end of the spectrum. Being a flaming redhead, Fisher can wear deep purples and emerald greens that previously only the Joker could get away with.
The plot is strict chick-flick and doesn't match the ferocious zaniness of Fisher's look. Her Rebecca is a credit-card-wielding would-be journalist who has to take a job at a financial magazine to pay off her debts. Once there, she hopes to ascend to Alette (read Elle) magazine, higher up at the ladder in the chain of magazines run by "Dante West" (read Condé Nast).
Hugh Dancy is the movie's Darcy, an unshaven yet well-born editor who encourages Rebecca to stretch herself as a writer. The result is an anonymous "Girl in the Green Scarf" column that becomes a sensation. The problem is that while Rebecca rages against the national credit card problem in easy-to-read print, she's defaulting on her debts and helplessly buying new clothes and shoes. And an indefatigable collection agent (Robert Stanton) is on her trail.
In the middle of the film, the cast heads to Miami, and then Hogan fills up the screen with some South Beach colors; Fisher really shines in this sequence, klutzing it up through a merengue or something, and using a Spanish dancer's fan like a ninja uses numbchuks. During this Miami trip, there's a payoff to a running joke about how Rebecca has padded her résumé by pretending to speak perfect Finnish: the best line in the film, even if it's an antique.
It is possible that Fisher is a very talented comic actress, but the sitcom level gags here waste your time. And so do the crumbs this script throws the older members of the cast. John Goodman basically reprises the part he played in Coyote Ugly; John Lithgow, Kristin Scott Thomas, Joan Cusack and Julie Hagerty try to make something out of nothing. The film does boast some more conventional glamour, with Leslie Bibb as a sky-high, frosty model, and the dark-haired and fetching Krysten Ritter as Rebecca's housemate. In a movie with more going for it, Rebecca would have made them both look drab, instead of more interesting.
Confessions of a Shopaholic has to have it both ways, selling an insanely costly lifestyle while trying to remind people not to get behind in their payments. It's noteworthy that this Jerry Bruckheimer–produced feature flashes a lot of credit cards, but Visa, MasterCard, Discover and the gang didn't buy in for product placement. And no one in the audience laughed when Goodman says, "If the American economy can be billions in debt, so can you."

CONFESSIONS OF A SHOPAHOLIC (PG), directed by P.J. Hogan, written by Tracey Jackson, Tim Firth and Kayla Alpert and photographed by Jo Willems and starring Isla Fisher, plays valleywide.
Click Here to Talk About Movies at Metro's New Blog
Send a letter to the editor about this story.