02.18.09
home | metro silicon valley index | movies | current reviews | film review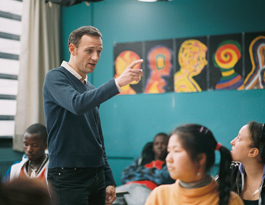 Photograph by Pierre Milon
CIVILIZING FORCE: François Bégaudeau manages a rambunctious microcosm of a new multinational France in 'The Class.'
To Monsieur, With Love
'The Class' pits teacher against student in a tough Paris neighborhood, and everybody wins
By Richard von Busack
In taking the pressure-cooker atmosphere of a high-school classroom and making it absolutely compelling, Laurent Cantet's The Class shows the excitement of doing a desperately important job. According to the journalist Sanche de Gramont (a.k.a. Ted Morgan), there was a time when a French education minister could look at the clock and instantly tell what subject was being taught in every classroom in his nation. That's changed, obviously. The Belleville-area school in Paris we see here isn't old-school in any sense of the word. Students of every nationality in the old French sphere of influence attend: Tunisian Arabs, sons of Francophone Africa, a kid from Martinique or some other French island in the Caribbean—there's even a Chinese illegal alien. In some ways, what we see is like an "FSL" class instead of "ESL." The class of the title is French, specifically grammar. The teacher in the class is leading students through imperfect tenses, and they prefer street argot. But it's also his job to get them to read The Diary of Anne Frank and to coax them to open up about their lives when they prefer to look as cool and streetwise as possible.
Another measure of how much French schools have changed since The 400 Blows is seeing how the students have a little control in matters. Student representatives are allowed to witness disciplinary hearings and exercise a bit of clout. This power leads to trouble in the conclusion of this tightly paced yet naturalistic docudrama. The focus on the schoolroom is intensive—the few night scenes are filled with parent-teacher conferences and other administrative problems. The classroom is small and packed with kids ages 14 and 15. Some of the few exteriors are high-angle shots of the schoolyard; it is prisonlike in its compactness, and it has high walls.
The French title of François Bégaudeau's memoir, Between the Walls, must be deliberately meant to recall jail. In this restaging of events in his classroom, Bégaudeau plays what he is in real life: a correct, graceful, unflappable teacher who can handle what his always-chafing kids throw at him. One kid suggests that Bégaudeau is a "Camembert"—the slang for a Frenchy Frenchman, the suit-and-tie type, as opposed to the hip-hop-loving kids of the class. Naturally, a few of the students question Francois' sexuality. He handles the gossip with a beautifully thrown rhetorical dart: Who wants to know? The heckling students show their spirit. Bégaudeau shows his spirit by giving without giving away everything he's got. It makes him the kind of teacher you might have had, the ones who were more intriguing than the ones who shared everything. They were mysteries. What exactly did they do in their spare time, when they were so devoted to teaching? The Class is another strong and worthwhile film by Cantet. He's creating a specialty for himself, a focus on the workplace and overwork, just as he did in the excellent film Time Out. The Class is a specific type of labor movie, and it's not the kind that's not being done much, if at all, in American movies. It's a sympathetic film without being sloppy, and it is of equal fascination to students and teachers alike.

THE CLASS (PG-13; 128 min.), directed by Lauren Cantet, written by François Bégaudeau, Robin Campillo and Cantet and starring Bégaudeau, plays valleywide.
Click Here to Talk About Movies at Metro's New Blog
Send a letter to the editor about this story.