02.18.09
home | metro silicon valley index | music & nightlife | band review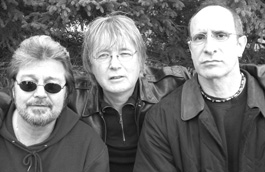 BLUES SURVIVORS: Savoy Brown keeps the Brit blues alive.
Savoy Brown
By Al Roberts
IN THE '60s, British bands, unencumbered by anxieties about authenticity, took to American blues with cheeky gusto. The Rolling Stones, Jeff Beck, 10 Years After, John Mayall and Eric Clapton made names for themselves with speeded-up Delta riffs. Forty years on, it's easy to forget that Savoy Brown was there at the very beginning of the British blues-rock scene, forming in 1965 and breaking out with the album Shakedown in 1967. The band has mutated repeatedly over the decades, shedding and regrowing sidemen like snake scales. Most recently, Savoy Brown soldiers on under the leadership of original guitarist Kim Simmonds, who also handles the vocals. Gerry Sorrentino and bass and Masio Staiano round out the lineup. As always, Savoy Brown puts its emphasis on old-school boogie and familiar blues licks.
SAVOY BROWN plays Saturday (Feb. 21) at 8pm at the Little Fox, 2209 Broadway, Redwood City. Tickets are $18/$20. (650.FOX.4119)
Send a letter to the editor about this story.