02.18.09
home | metro silicon valley index | music & nightlife | band review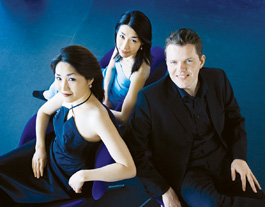 Photograph by Soren Svendsen
THREE'S A CHAMBER CROWD: Trio con Brio comes to San Jose.
Trio con Brio
By Michael S Gant
EARLY IN January, Trio con Brio Copenhagen stopped by Stanford's Lively Arts to help Rob Kapilow illustrate sonically one of his popular "What Makes It Great?" concerts. The young group is back in the valley for a stop sponsored by the San Jose Chamber Music Society. Cellist Soo-Kyung Hong, violinist Soo-Jin Hong and pianist Jens Elvekjaer had walked off with several signal honors in their brief history, including and International Trio Award in 2006. For this concert, Trio con Brio will play Haydn's Trio in C Major, Mendelssohn's Trio in C Minor and Dvorak's Trio in F Minor. Local musical scholar and performer Roger Emanuels will preface the evening (at 6:15pm) with a discussion of the pieces.
         TRIO CON BRIO COPENHAGEN performs Sunday (Feb. 22) at 7pm at Le Petit Trianon, 72 N. Fifth St., San Jose. Tickets are $25–$40. (408.286.5111)

Send a letter to the editor about this story.