02.18.09
home | metro silicon valley index | music & nightlife | band review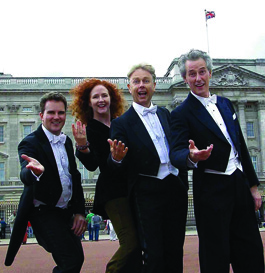 REACHING OUT: Voices of London jumps the pond to Fremont.
Voices of London
By Al Roberts
ONCE KNOWN as the Scholars, the Voices of London vocal quartet has presented thousands of concerts since 1970. The group—Simon Grant (pictured, right), Angus Davidson (left), Robin Doveton (third from left) and Kym Amps (with a name like that a career in rock surely once beckoned)—knows its way around the full five-century range of the classical repertoire, but its members are anything but stuffed shirts. They aim to expose all kinds of audiences to classical music with sprightly selections and often humorous digressions.
THE VOICES OF LONDON perform Friday (Feb. 20) at 8pm at the Smith Center, Ohlone College, 436000 Mission Blvd., Fremont. Tickets are $15–$25. (510.659.6031)
Send a letter to the editor about this story.