02.18.09
home | metro silicon valley index | music & nightlife | band review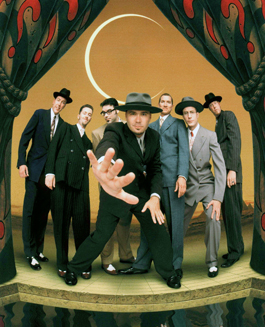 Photograph by Don Miller
CALL THEM A CAB: Big Bad Voodoo Daddy loves the music of Cab Calloway.
Call Them a Cab
Big Bad Voodoo Daddy tear into the Calloway songbook
By Steve Palopoli
"I SAW Cab Calloway perform when I was in seventh grade," remembers Big Bad Voodoo Daddy bandleader Scotty Morris. "I was completely blown away." Right now anyone who knows a little about Cab Calloway may be wondering if indeed he means the Cab Calloway, as in the one from the Cotton Club, who hired, fired and got stabbed in the leg by Dizzy Gillespie, the one who recorded his most popular song in 1931, decades before Morris was born.
But it's true, Calloway performed right up until his death in 1994, at age 86. That was the same year Big Bad Voodoo Daddy released its first, self-titled album. If he heard it before he died, he probably could hear his influence on Morris, and depending on the size of his ego at the time, who knows, maybe he even suspected that it was at his show that Morris decided what he was going to do with his life. And if he'd lived a couple more years, Calloway would probably have been impressed to see Morris' band cover "Minnie the Moocher" at the height of the swing revival, making Cab Calloway cool again for a whole new generation of hipsters. It turned out to be an enduring favorite for Big Bad Voodoo Daddy, as well. "We've pretty much played that song every night," says Morris.
So perhaps it shouldn't be a surprise that the big band's upcoming album, How Big Can You Get, is a tribute to Calloway, featuring a whole disc of his songs. Now, when the retro craze was in full swing, so to speak, with Big Bad Voodoo Daddy on the soundtrack for Swingers, and then writing TV theme songs and performing at the Super Bowl halftime show, this wouldn't have been the smartest move. Though they played several covers, it was Morris' original songs that showed they weren't out to be some kind of tribute band, but to make music for their own postpunk era, influenced by the music they loved.
"It was an interesting time," says Morris of the late-'90s swing craze. "All of a sudden it just became the thing for six months to a year. It was everywhere. For two years straight, we were never home." Of course, it was the exact kind of success that can break even the most well-adjusted band. "It could have," he admits. "You can imagine the amount of pressure and stress."
Now, however, with the zoot suit riot long over, it's easier to relax about doing an album like How Big Can You Get. "[Calloway] has been an inspiration from day one, so it's been really fun. It's exciting to explore someone else's songbook," Morris says.
BIG BAD VOODOO DADDY performs Friday (Feb. 20), at 8pm at the Fox Theater in Redwood City. Tickets are $25. (408.369.4119)
Send a letter to the editor about this story.