02.18.09
home | metro silicon valley index | columns | style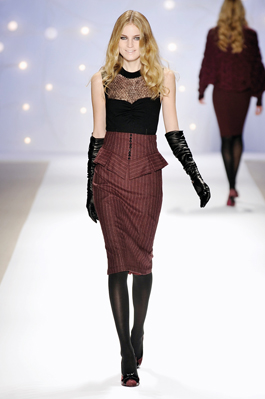 Style
The Sexy '60s
By Jessica Fromm
IN THE popular AMC series Mad Men, secretary Joan Holloway sashays around a nicotine-soaked '60s advertising office in snug dresses and pencil skirts that hug her jaw-dropping curves like a Porsche. Played by actress Christina Hendricks, Joan is the office bombshell and HBIC of a swarm of sweater-set-clad secretaries.
While Joan's outfits are modest in cut, they are body conscious enough to leave little of her assets to the imagination. Whether you call it the "sexy secretary" or "naughty librarian" look, this period style is becoming a major trend.
Perhaps it's a case of life imitating art, or maybe serious economic times are motivating employees to take a more deliberate approach to workplace attire. Either way, the sort of buttoned-up sexiness that is the signature of Mad Men has made its way off TV sets, onto the runway and into real offices. Marc Jacobs and Ralph Lauren dabbled in Joan's hot-under-the-collar look last winter, and even Michael Kors said that Mad Men was a major influence on his recent runway shows.
The definitive wardrobe component for creating the "sexy secretary" look is a tight pencil skirt. Always hitting at or below the knee, these skirts should have a stretchy slim fit but shouldn't look painted on. Feminine New York–based brand Milly sells a Wool Button High-Waisted Skirt that is just right, as is its Cotton Trapunto Stitch Button Skirt.
If these bottoms aren't pushing the envelope enough, Nanette Lepore has a Pash Bordello Pinstripe Showgirl Skirt that'll stop 'em in their tracks with corseted button details and fold-over ruffles at the hips. Pencil skirts should be paired with cropped cardigans, short jackets or close-fitting knit sweaters in cheerful hues.
Again, Milly has some great offerings, like its Ballet Pink Cashmere Bow Intarsia Sweater. Any sort of top that ties at the collar is game for this look, like the Lavender Silk Crepe-de-Chine Ruffle Blouse, also by Milly.
Since a wasp-waisted silhouette is ideal for any mid-20th-century ensemble, play up an hourglass figure by bringing focus to the midsection. Banana Republic has a Wide Stretch Geometric Belt that is great for nipping in the middle of everything from long cardigans to simple shift dresses.
When it comes to accessories, think classic jewelry. Brooches, pins, pearls and kitschy costume baubles go along with upswept hair and some smooth black eyeliner applied to the top lid only. The Amaryllis Flower Pin by Alexis Bittar can add a little color to the neckline of a basic frock, like the Plaid Collared Button Sheath Dress by Ruffian.
Essential to this retro look is appropriate leg wear. Flesh-tinted pantyhose were a staple to every woman's wardrobe in the early '60s. Exposed legs should be covered by sheer black tights, seamed stockings or fishnets attached with a garter belt if you want to hint at a little mischief underneath that ladylike exterior.
Another place to go a little crazy is footwear. A pair of '40s-inspired peep-toes heels, classic Mary Jane pumps or laced-up Oxfords are a great finish to this look. The Fidji B218 Mary Jane Pump has a glossy oversize button detail, and the oxford-style Fusion Pump by Poetic License combines colorful plaid with rich leather, all tied up in a felted ribbon.
While finding new vintage-inspired attire is all well and good, authentic clothes from the '50s and '60s are even better. If you are not skeeved out by wearing shirts that were once owned by people who are now dead, then feel free to roll up your sleeves and dive into the world of vintage clothing. Moon Zoom and Black and Brown on West San Carlos Street in San Jose are great spots to sift through the mounds of polyester, while Park Place Vintage in Willow Glenn and 23 Skidoo in Campbell are also bursting with unique vintage finds.
Send a letter to the editor about this story.