02.20.08
home | metro silicon valley index | the arts | books | review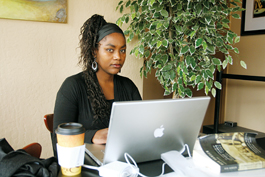 Photograph by Felipe Buitrago
PROSE BREWER: ZZ Packer at work in her favorite cafe
Necessary Mysteries
After 'Drinking Coffee Elsewhere,' author ZZ Packer dispenses some of her storytelling secrets at SJSU
By Richard von Busack
ONE WAY to sum up local author ZZ Packer's work is to say that she writes about prejudice—and prejudice's best friend, pride. A Stegner Fellow at Stanford, Packer is currently the Lurie Chair at San Jose State University, where she is teaching two courses.
"ZZ was a nickname," Packer says via phone. "I was always called that by my uncle, and the teachers started calling me it, too." Packer grew up in Atlanta, Louisville and Baltimore. Writing had been just one of her childhood interests. She started on pieces "in a very juvenile way, not knowing whether they'd be poems or plays." In high school, an English teacher made her analyze the structure of stories. "I'd never really thought about it. I'd always read, but [it] never popped into my head how much craft people put into writing."
In 2003's Drinking Coffee Elsewhere, Packer delivered eight fine tales of characters tossed beyond their racial and social limits. In the title story, a Yale student's self-possession turns out to be more like self-imprisonment. She has plenty of reason for wariness. A blonde college counselor confides to her, "Sister ... as a person of color, you shouldn't have to fit into any white, patriarchal system."
"I said, 'It's a bit late for that.'"
In "Brownies," a group of young children try to take some misdirected umbrage. "Doris Is Coming" concerns a churchly, small-town girl in 1961 pushing herself into a sit-in at a segregated soda fountain. "Speaking in Tongues" tells of a teenage runaway's first attraction, to a perhaps dangerous older man. In "Our Lady of Peace," a high-school teacher is brought to the brink of homicide by her impossible students.
"I actually was a high school teacher," Packer comments. "My experiences weren't as bad as what happens at that school. The real similarity to the fictional school was finding out how fast students can flip. One moment they're acting up, and the next moment they're smiling: 'Hiii, Ms. Packer!' I wasn't the young idealist teacher who comes in and then they all fall into line like in Dangerous Minds or Stand and Deliver."
My favorite Packer story, "The Ant of the Self," concerns a young, blue-blazered debate-team Poindexter named Spurgeon. He is hauled to Washington, D.C., by his disreputable father, Roy. The older man has a million-dollar idea to hustle the Million Man March by selling tropical birds as souvenirs. With its rich humor and tragic shadows, "The Ant of the Self" contrasts the unquestionable bravery of that 1995 march with a sometimes skeptical view of human motives. The loftiness of duty—to brothers or fathers—runs head on into the common-sense logic of self-protection.
Packer notes, "I always like to end the story with the character about to make a decision, either for the better or the worse. The reader has to ask if it's worth it to do good when there's no other reward, or whether it's better to watch out for oneself."
What has she been reading lately? "I'm rereading a lot of those books I'm teaching. The Sound and the Fury, for instance. Teaching it, I'm trying to take out the unnecessary mysteries and leave the necessary ones. If you can get over the Cliffs Notes stuff, you can get the students into an associative groove."
This spring at SJSU, Packer is also teaching Go Tell It on the Mountain, The Crying of Lot 49, Blood Meridian, The Bluest Eye, Love Medicine and The Woman Warrior. Her students also use a reader with passages from The Souls of Black Folk and Up From Slavery. "I'm structuring it in a way where they have to do the reading," Packer adds. "I have a couple of older students, too—a real range of ages, backgrounds and different experiences."
"The thing to stress in teaching writing is honesty," she continues. "People who write fiction have to get more truth than there is in nonfiction. You have to plumb your own depths and emotions. That's why there are so many good writers in their 50s. They're no longer concerned with the BS. Also, you have to do writing for your own reward. It's like wanting to play piano. Not everyone is going to be a concert pianist, but no one is stopping you from playing."

ZZ PACKER appears for a Q&A on Wednesday (Feb. 27) at 1pm at the SJSU University Room; she reads the same day at 7:30pm in the SJSU Music Concert Hall. Free. (408.924.4600).
.
Send a letter to the editor about this story.