02.20.08
home | metro silicon valley index | movies | current reviews | film review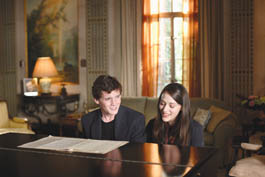 Kim Woroner
ALL KEYED UP: Anton Yelchin and Kat Dennings pick out a tune for 'Charlie Bartlett.'
Pitcher of Wry
'Charlie Bartlett' is as sensitive as Holden Caulfield and enterprising as Ferris Bueller
By Richard von Busack
THE SMELL, as opposed to the buzz, is that someone thought the odd-fit comedy Charlie Bartlett was a new Juno, and that's why it's been sprung from its significant time in the can. The film was steadily advertised all last summer, with the cast seen marveling at the scandalous deeds of Charlie Bartlett (Anton Yelchin). He is supposed to be as sensitive as Holden Caulfield and as enterprising as Ferris Bueller; his wide guileless eyes make Elijah Wood's look beady. His name may have been branded on you during the previews, but the film's hero is caught hopelessly between self-aggrandizement and altruism. He would have to be the next big star to knit all these conflicting traits together. Yelchin isn't all that—although he tries to be—but it's probably a tribute to his talent that you don't want to kill Charlie Bartlett outright.Seventeen-year-old Charlie has just been kicked out of prep school for running a fake-ID racket. His distracted, none-too-sober mother (Hope Davis) places her son in a public school. Bartlett arrives via short bus, still wearing the crested blue blazer of his private school. He is scooped up and given a face-down plunge in a toilet by Murphy, the mohawked bully (played by Tyler Hilton of One Tree Hill). Sent to a psychiatrist after the incident, Charlie is prescribed Ritalin; the drug sets him off into an ecstatic frenzy, and the police bring him in after running around in his underwear. The pharmaceuticals give him an idea for a way to make friends. He begins dealing black-market meds to heal the troubled students around him. It becomes his job, running a clinic out of a bathroom stall; meanwhile Charlie gets involved in the school's theater, the province of the principal's daughter, Susan (Kat Dennings).
The principal is played by Robert Downey Jr. He's brilliant, of course, but on a way, way different wavelength than this movie. Downey ably subs for the middle-aged bitterness of Bill Murray in Rushmore; that Wes Anderson film is another rock in this film's veritable avalanche of touchstones. Dennings isn't bad; she's a tougher, different kind of love object, a bigger, darker girl than the leading boy usually falls for. She has a look but not a character. The writing is so off in Gustin Nash's script that Susan doesn't even react too much when her boyfriend and her father get into a terrible argument.Touching on some hot-button topics—teen suicide, pharmaceutical drugs, drunken or helicopterish parents—Charlie Bartlett resolves everything with a warmhearted blandness that would have made even Judy Blume or John Hughes flinch. The dull, soft, televisionistic visuals don't liven this picture up, and it gives us an older-person's view of teenage rebellion. Charlie Barlett shows its preference for after-school-special territory after the jig is up; Charlie is rather relieved that he's been grounded, because it's showing that his mother really does care about him. Has any 17-year-old—outside the boundaries of an after-school special, of course—ever shown such gratitude?

CHARLIE BARTLETT (R), directed by Jon Poll, written by Gustin Nash, photographed by Paul Sarossy and starring Anton Yelchin and Robert Downey Jr., opens Feb. 22 at selected theaters.
Send a letter to the editor about this story.