02.20.08
home | metro silicon valley index | movies | current reviews | film review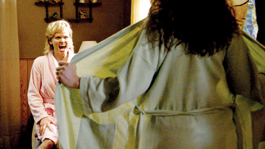 Opening Surprise: The fun keeps coming in 'Eden Court,' the opening-night feature at Cinequest.
Reels on Fire
Cinequest ignites a serious case of film fever with two weeks' worth of screenings and special events
By Richard von Busack
FOR FIRST-TIMERS at Cinequest, the annual blowout—12 days (Feb. 27– Mrch 9) and some 80 movies, plus a slew of shorts, all-day forums and guest stars—may seem overwhelming at first glance. What keeps viewers returning to Cinequest is the energy they get from watching films they had no idea existed and might not have had another opportunity to see. The 18-year-old festival serves as everything from a meeting place for international connoisseurs to workshops for young filmmakers and lots of parties for mingling and talking about all those screenings.
For this year's festival, downtown San Jose will come alive with visitors from around the world. Screenings will take place at Camera 12, San Jose Repertory Theatre and the California Theatre. The huge screen at vintage revival movie palace the California Theatre will be put to marvelous use showing two classics from the silent cinema; the capacious theater will also host some major film figures. This year, it's Michael Keaton and Danny Glover who are coming to the South Bay to receive Maverick Spirit Awards; they will be joined by scriptwriter/producer Bobby Moresco (Crash, Million Dollar Baby) and scriptwriter Michael Arndt (Little Miss Sunshine).
Our coverage (which continues next week and is all online at www.metroactive.com) begins with the opening-night feature, Eden Court, and includes reviews of some of the more notable offerings at the festival, as selected by our crack team of tireless reviewers. Our picks for must-see entries are marked with a star.
Eden Court
(U.S.) This corner demands more movies set in trailer parks. But John Waters might have the best way to approach them: as outposts of individuality, surrounded by vast gulfs of prejudice and conformity. Director Paul Leuer, adapting his play, keeps diminishing his characters into a series of lovable quirks—except in the case of one character, Barb (Mad TV vet Stephnie Weir, too tough and too raunchy for prime time).
On his 30th birthday, Schroeder (Thomas Lennon of Reno 911) works as a mere grass-cutter at the real-life Alexian Field, Ill., home of the minor-league Schaumburg Flyers (they play the Fargo-Moorhead Redhawks, Joliet Jackhammers and other prairie sluggers). A busted shoulder had ended his dreams of playing pro-ball.
Secretly, Schroeder bought Australian real estate based on an informercial pitch. "I made a promise to myself that I was gonna live the American dream, even if I have to go to Australia to do it," he says. He plans to sneak off from his single-wide and abandon his other half, Bonnie (Kimberly Williams-Paisley), who has been making regular noises about wanting to have a baby.
What follows is an I Love Lucy–ish bad day of missed connections, misunderstandings, forgotten cakes and minor traffic mishaps. All are resolved with a sitcom axiom about The Most Important Thing in the World.
I won't be the first to note how much Lennon resembles Craig Kilborn in look and action. What happens to Barb is much more interesting. On her agenda: starting the day with stolen champagne; having a daylight screw with her gooberish ex-boyfriend; getting canned from her job; intervening when the brain-damaged girl next door runs over her foot with a power mower; and relaxing for a few well-deserved highballs at her favorite bar, still wearing her bloody bathrobe from the previous emergency. This blithe, if drunk, spirit embodies the myth of our trailer parks. (RvB)

(Opening night, Feb. 27 at 7pm at the California Theatre, with an afterparty with the filmmakers at the Paragon Restaurant, 211 S. First St., San Jose.)
Autism: The Musical
(U.S.) The title and the film are no joke. Tricia Regan directs a clear-eyed documentary about a cloudy disorder. She follows Miracle Project founder Elaine Hall through six months of preparation for a musical starring autistic children in West L.A., while VCR footage shows the kids and their parents earlier in their lives. The film displays the tenacity and persistence of the mothers (not always flattering), the unique personalities and raging quirks of the kids, and small transcendent moments like a teenager singing Joni Mitchell's "Urge for Going." (DH)

March 2 at 1:30pm and March 8 at 5:15pm at San Jose Rep, and March 7 at 6:30pm at Camera 12.
'Bitter Sweetheart'
(Sweden) Director Hella Joof follows the coming of age of 15-year-old Lina (Mylaine Hedreul) and her quest to become a woman. Her so-called friends have led her to believe that losing her virginity is the only thing that matters at their tender age. Though she pines for a schoolmate, she forces herself to date Danne, a high school boy who thinks she is "OK-looking." Despite the horrible title, this is a classic teen drama told through awkward moments and diary entries, remaining honest about the female teenage psyche in adolescence. The message is ultimately effective: Being a follower never led anyone anywhere they wanted to be. (CT)

Feb. 28 at 7pm and March 3 at 9:30pm, both at Camera 12.
*Butterflies
(Sweden) With this 52-minute family film, Swedish director Kjell-Ĺke Andersson strikes a satisfying mix of crummy reality, comic villainy and flights of fancy. A stressed mom (Frida Hallgren) runs in the rat-race fast lane and has begun to lose touch with her daughter, Sara (Alice Havrell). Sara, on the other hand, has begun to levitate and fly when she listens to the butterflies in her stomach. Mom takes her to the hospital, where greedy doctors try to wrench the secret from her. But a spirit like Sara's can't be quenched that easily. The film's brisk, low-key direction and enjoyably low-tech visual effects give it a certain kind of humility; it transcends the cutesy, cloying eagerness of many kids' films. Screens with the short film Departure. (JMA)

March 5 at 6:45pm and March 8 at 4:30pm, both at Camera 12.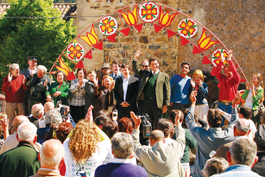 Dot.Com
(Portugal) Dot.com is a David and Goliath tale about an isolated little mountain town, Aguas Altas, pitted against a multinational beverage corporation with a trademarked product of the same name. In his quest to connect the town to the outside world with a new road, a young civil engineer builds a website (called Agues-Altas.com) for the otherwise tech-illiterate town, and they all get hit with a nasty lawsuit. The battle that ensues is as confused as it is confusing, full of silly behavior and implausible plot twists, but also blessed with genuinely funny characters, conflicts and misunderstandings. Dot.com is also one of those self-reflective films that aspire to embody their own central theme of folksy charm triumphing over artful sophistication—Dot.com is silly and sweet, not an art-house flick at all—and to the extent that you prefer folksy charm over artful sophistication, it succeeds, along with its winning cast and idyllic pastoral setting. (MC)

March 3 at 6:30pm, March 6 at 4pm and March 7 at 7pm, all at Camera 12.
*The Émigré
(Hungary) Sándor Márai is a Hungarian author who is just now being discovered in the West. This Hungarian film—in the ballpark of The Diving Bell and the Butterfly—is adapted from the last installment of his diary. Márai had the misfortune to live "at the intersection of two mad ideologies." His country was plundered first by the Nazis and then by the Soviets. In exile in San Diego, the author (played by the Bruno Ganz–like Ferenc Bács) witnesses the slow death of his wife. Meanwhile, he fends off his new fame and invitations to return to Hungary. Márai feared that such a visit would be endorsing the Communist government. (He's so immersed in his memories that he can't predict the fall of the Berlin Wall even by winter 1989. It is an irony that this film is too wise to point out.) As his life wanes, he's closer to the recollections of the honeymoon trip to Naples and Herculaneum. The world around him is of much less note. America "didn't give me a home, but it took me in," and the new country made half-strangers out of Márai's descendents. Confirmed New Worlders who can't handle last thoughts may be warned against this film. I'm on the trail of Márai's hard-to-find novels after hearing his comment here: "Dying starts when you don't feel dying is impossible anymore." There were plenty of '56ers from Hungary in L.A. when I was a kid, and I used to wonder how they could reconcile their silences, their correctness and their gilded, heirloom-crystal chandeliers with the brutal sunshine and barbaric yawp of California. This movie gave me a better idea of what it was like for them. (RvB)

Feb. 28 at 4pm, March 5 at 7pm and March 6 at 2pm, all at Camera 12.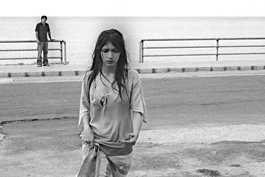 The Eternal City
(Italy/U.S.) Two American guys and an Italian girl in Rome bond in a Jules and Jim–style romp. The beautiful black-and-white cinematography and can't-miss locations justify the film visually, but how much you enjoy The Eternal City on an emotional level depends on how appealing you find rambunctious Philly guy Jonny (Joe Iacovino), who crashes on the couch of a young American/Italian filmmaker named Jesse and his girlfriend, Angela (Guilia Steigerwalt). Jonny quickly agrees to play Napoleon in Jesse's scheme to make a grandiose film called The Retaking of Corsica. The epic doesn't look any more promising than Jesse's documentary about the "birds" of Rome—i.e., building cranes—a musical tour of the city's skyline with lyrics about "cement mixers and corrugated steel and other things." Of course, the real dynamic is romantic, as tetchy Jesse ignores sensitive Angela, who finds herself drawn to comically energetic Jonny. Nothing much happens, and the film is hampered by Julia's dream sequences (which mock European art-film pretensions) and a subplot with Jesse's piano-tuner father, but Steigerwalt makes a sweet apex of the love triangle, and the picture doesn't push too hard for a false resolution. (MSG)

March 1 at 9:30pm, March 2 at 11:15am and March 3 at 2pm, all at Camera 12.
*Fear(s) of the Dark
(France) An ambitious, uneven anthology by six artists, proving that France (home of Persepolis) is a haven for black-and-white 2-D animation. From low to high: designer/New Yorker cover artist Pierre di Sciullo's moving geometrical shapes are accompanied by chattering-class fears (minor social anxieties, mostly); Di Sciullo's snippets intrude relentlessly into the more visceral—if at times slightly pointless—material. An example of "pointless" is Christian "Blutch" Hincker's character, who looks and is dressed like the Marquis de Sade, prancing around siccing his mastiffs on the working class, until he gets the kind of payback any good Marxist could have predicted. Far better is Marie Caillou's tribute to Japanese animation, with a doll-like little girl in a sailor suit trying to combat a case of demonic possession. (Caillou's style is pretty much like the "Fruity Oaty Bars" commercial, as seen in Serenity.) Approaching the top is Charles Burns' tale of insect fear, as good as anything in his recent graphic novel Black Hole, although the limited animation tends to thwart the punch of the images. Richard McGuire's wordless episode about a snow-bound haunted house is perfection. Here is a vibrant, brutal contrast of black and white, of positive and negative spaces—and deceptively simple graphic storytelling. It is the most genuinely fearful of these fearful stories. (RvB)

March 5 at 7pm at the California Theatre and March 8 at 9:15pm at Camera 12.
Getting Home
(China) Equal parts road movie, buddy flick and Weekend at Bernie's, the Chinese feature Getting Home ranges from slapstick laughs to what ends up as a poignant reflection on friendship and the meaning of home. Then again, the movie could be a not-so-subtle message about the perils of leaving rural China in search of work. Set against modernizing China and the construction of the Three Gorges Dam, the film follows a poor construction worker named Zhao, played by the versatile Zhao Benshan, and his efforts to take his working buddy Liu (Hong Qiwen) back home. The tricky part is that Liu is dead. Zhao carries, rolls and pulls his friend on a journey across southern China toward Liu's hometown. Along the way, the hapless but steadfastly loyal Zhao is robbed, tricked, arrested and sometimes befriended as he tries to do right by his friend and get him home. (SH)

March 5 at 7:15pm and March 7 at 7pm, both at Camera 12.
The Night of the White Pants
(U.S.) In this loose-limbed Texas comedy, Tom (Michael Clayton) Wilkinson plays a millionaire patriarch with a bad heart who is losing his company and trophy wife. He embarks on a journey to the end of the Dallas night with his daughter's (Selma Blair) punk-rocker boyfriend (Nick Stahl). Both the Texans and the punks are surprisingly polite. The notion that punk and bidness can get along is suspect, but Wilkinson is so charismatic and Stahl so likeable that if the audience squints, they can see a rough comedy of manners. (DH)

March 6 at 7pm and March 8 at 9:30pm, both at the California Theatre.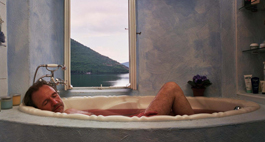 The Reject
(Serbia) This bizarre, pretentious Serbian film has a gambling addict named On fired from his job as a banker and pursued by mysterious sinister types in black. Director-writer Milos Radivojevic likes to work with co-producer Svetozar Cvetkovic, who stars here as On, and it's easy to see why. He is an effortless actor whose expressionistic face and understated delivery make him extremely watchable. Unfortunately, this time the material is not; in fact, it's practically nonexistent. This is the kind of film where many Meaningful Looks are exchanged, the kind that seem to say "Aaaahhhhh" even though there's absolutely nothing to say "Aaaaahhhh" about. On meanders through his own story, getting caught up now and again in what are apparently dream sequences—it's hard to say for sure, but neither does it matter all that much. Aside from some nice landscapes in the second half, it's all pretty much talk. Characters blather on about the sorry state of the world and each other, but with lines like "This is the night of mediocrities," it can hardly be called deep. The mysterious pursuers are the only thing that moves the film along, and the need for some kind of explanation is the only reason to stick around for the finale. Don't get your hopes up. (SP)

March 1 at 7pm, March 2 at 4pm and March 5 at 2:30pm, all at Camera 12.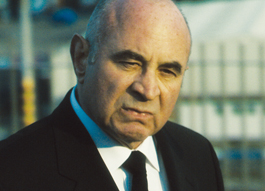 *Ruby Blue
(U.K.) Shows like To Catch a Predator make the hunt for potential child sexual abusers seem more like a distorted game than a public service. As such, it's surprising to see an uplifting film like Ruby Blue take on the issue. Bob Hoskins plays Jack, a man whose long-suffering wife has just died. His son rejects him, and neighborhood hoodlums harass him. In a modern-day English town, Jack spends his gray, depressing days brooding and boozing around his neglected house, unshaven, dejected and self-hating. The sun starts to shine, though, when an attractive older French woman and a precocious little girl befriend him. Jack slowly begins to come out of his shell and help those around him. But when the little girl suddenly goes missing, the neighborhood starts to turn on Jack, believing that he had something more sinister in mind with their innocent friendship. The highlight of writer-director Jan Dunn's drama is the lead. Hoskins is able to show more frustration and emotion in the act of throwing pieces of a tuna sandwich off a pier than most actors could summon in a full-on tirade. Ruby Blue shows how a community can come together to help someone, and then just as easily turn on him when paranoia comes into play. With charm and quality acting, the film is ultimately able to remain positive and reassuring, even as it deals with such sensitive and loaded subject matter. (JF)

March 3 at 7pm at Camera 12, March 6 at 9pm at San Jose Rep and March 7 at 1:30pm at Camera 12.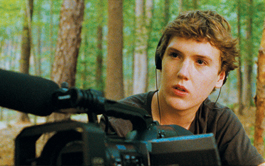 *Superheroes
(U.S.) Often effective and obviously well-researched bromance between a badly injured Iraq vet, Ben (Dash Mihok), and Nick (Spencer Treat Clark), a flighty kid with a video camera who proposes to document his life. The Nick Nolte–ish Mihok convincingly depicts the sufferings of a 30-year-old ruin, living at home, existing on pills and lamenting a busted marriage. A girl, Kelly (Kelly McAndrew), seems ready to be a romantic lead, and she's got a story of war and mutilation to tell. But she gets dropped from the film fast and hard; meanwhile, Ben and Nick start to grow so close, you wonder if writer-director Alan Brown is trying to tell us something. (The ending—the standard finale for gay romance, in films from the 1950s to Stonewall—is another possible clue.) I can't imagine the finish pleasing either vets or gay people, though. I could have done without the repeated cuts back to a studio where Nick's ex-girlfriend is training with a woman's dance troupe. It's probably meant as a visual contrast between female grace and male violence, part of the implicit protest of the heedless machismo indicated by the title. (RvB)

March 1 at 9:45pm at Camera 12, March 3 at 7pm at Camera 12 and March 4 at 5pm at San Jose Rep.
Unfinished Girl
(China) A sensational performance by Gao Yuanyuan anchors a sometimes baffling drama. Pale, rail-thin Xiao Ke (Gao) suffers from a terminal brain tumor. Before she goes, she wants to know the truth about what happened to her dead parents, and her top suspect turns out to be her brother-in-law, He Wei (Xu Zhang). Director Cheng Er favors long, chilly takes with a minimum of intrusive cutting, although he sometimes jams together scenes in a way that creates a confusion about the present-tense narrative vs. flash-forwards and flashbacks. But the heart of the film lies in the brutal showdown of recrimination and forgiveness between Xiao Ke and He Wei, which plays out with claustrophobic intensity. Gao (who starred in Shanghai Dreams, a Jury Prize winner at Cannes in 2005, and was cast in Jackie Chan's Rob-B-Hood, a popular 2006 Hong Kong actioner that didn't get stateside release) is a revelation. Beneath a wan exterior, she exhibits a steely resolve. In one magnificent long take, she delivers a fervent monologue, her eyes very slowly puff up with barely repressed tears as the camera relentlessly tracks in for a close-up that is both painful and hypnotic. (MSG)

March 1 at 2:30pm and March 7 at 4:30pm, both at Camera 12, and March 9 at 11:15am at the California Theatre.

Reviewers: Jeffrey M. Anderson (JMA), Mike Connor (MC), Jessica Fromm (JF), Michael S. Gant (MSG), Don Hines (DH), Stett Holbrook (SH), Steve Palopoli (SP), Claire Taylor (CT) and Richard von Busack (RvB)

CINEQUEST runs Feb. 27–March 9 in downtown San Jose. See Cinequest.org for details and ticket information. (FULL DISCLOSURE: Metro is the official print-media sponsor of the festival.)
Cinequest Cheat Sheet
MAVERICK SPIRIT AWARDS
Michael Keaton, March 1, 5pm, California Theatre
Michael Arndt (Little Miss Sunshine), March 7, 1:30pm, San Jose Rep
Bobby Moresco (Crash), March 8, 1pm, San Jose Rep
Danny Glover, March 8, 5pm, California Theatre

FORUMS
Day of Distribution, Feb. 29, 10:30am–5pm, at San Jose Rep
Sight, Sound & the Dollar Sign—Day 1, March 1, 10:30am–4:30pm, at San Jose Rep
Day of the Writer, March 7, 9:30am–3pm, at San Jose Rep, with a showing of Great Movie Scenes at Camera 12, 11am–12:30pm
Sight, Sound and the Dollar Sign—Day 2, March 8, 10:30am–5pm, at San Jose Rep

SPECIAL HAPPENINGS
Beaufort screening with writer Ron Leshem, in collaboration with the Silicon Valley Jewish Film Festival, Feb. 28 at San Jose Rep
Send a letter to the editor about this story.