02.20.08
home | metro silicon valley index | movies | current reviews | film review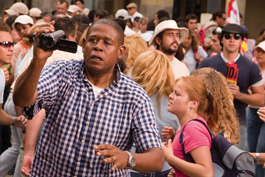 Daniel Daza
CAUGHT ON TAPE: Forest Whitaker's unwitting tourist films a terrorist attack in 'Vantage Point.'
Points of View
Everyone has a different 'Vantage Point' in Pete Travis' new thriller
By Richard von Busack
IT IS GOOD to see the movies giving the terrorists some credit for craftsmanship, and I'm not being facetious. Such credit—the kind that Vantage Point offers—shows a shift of estimation. We have had movies that made metaphors out of the revolutionaries, depicting them as nameless, shapeless dreads—as in Cloverfield or one of Spielberg's Tripods from War of the Worlds. Here, they are clever human beings like ourselves—clever but still capable of being outwitted by a wounded, dogged movie star in his 50s. Director Pete Travis (Omagh) stages this octagon-sided view of a terrorist attack at the Plaza Mayor in Salamanca, Spain (ably and thriftily constructed in the colonial parts of Mexico City). An anti-terror summit is about to take place, and the Secret Service is escorting the president of the United States to his place at the podium. The president (William Hurt) is a parallel-universe version of what we have now; a sensitive, soft-spoken Adlai Stevenson–style statesman who can talk down his hawkish advisers from a pre-emptive missile strike on Morocco. Despite his mildness, the president is under maximum threat by a radical Muslim version of the Impossible Mission Force.Travis cycles back the 20 crucial minutes of the attack by checking the characters who witnessed it. The opening speeches are watched from a TV trailer by hard-charging TV executive Sigourney Weaver, who refuses to include the anti-U.S. protesters "unless they're setting themselves on fire." Another observer is an American tourist named Howard Lewis, who Zapruders the violence with a digital camera. He's played by Forest Whitaker, who, unfortunately, is as sticky and moist as Vera Cruz in summer. Lewis is still mourning his recent divorce, so much so that he does not see anything suspicious in the conduct of a glad-handing, too-friendly Spanish passer-by. Me, I would have been making sure my wallet was safe, at the very least. A Salamanca police officer is the first to realize the Plaza is going to be bombed sky high. But he, too, is distracted by the conduct of his Carmen-like girlfriend (Ayelet Zurer from Munich).
Though Travis suggests that there is no central vantage point for a catastrophe, this is an American adventure movie, so we keep going back to close-ups of the steely, bloodshot blue eyes of Secret Service Thomas Barnes (Dennis Quaid). He is back on the job, even if he hasn't quite recovered from being shot twice in an unrelated assassination attempt a year ago. Vantage Point kept me grinning, and the sillier it got, the more I grinned. After the establishment of Barnes' frailty and the uncertainty of his point of view, he bucks up and becomes an iron-clad action hero, chasing the terrorists in those beetlelike cars favored for today's vertigo-inducing, shock-edited car-crunchers. Stuart Baird's editing—he did the last Bond—keeps most of the action relatively visible. But Travis' "What would Paul Greengrass (The Bourne Ultimatum and Supremacy) do?" direction keeps dropping logic-bombs of his own, such as a little girl who somehow manages to cross town in five minutes so that she can wander in at the crucial moment. Maybe the little girl was in on it, too? Damned crafty, these terrorists.

VANTAGE POINT (PG-13; 90 min.), directed by Pete Travis, written by Barry Levy, photographed by Amir M. Mokri and starring Dennis Quid, Sigourney Weaver and Forest Whitaker, opens Feb. 22 valleywide.
Send a letter to the editor about this story.