02.20.08
home | metro silicon valley index | the arts | stage | review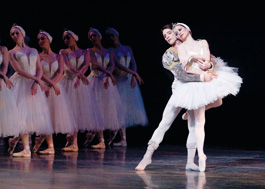 Photograph by Robert Shomler
WINGED VICTORY: Princess Odette (Karen Gabay) and Prince Siegfried (Maykel Solas) in Dennis Nahat's 'Swan Lake'
Kingdom by the Lake
Ballet San Jose takes flight in 'Swan Lake'
By Marianne Messina
DOMINATED BY the circle, Dennis Nahat's choreography for Ballet San Jose's Swan Lake conjures up a beautifully dizzying kingdom by the lake. In almost every scene, climactic spins, tours and pirouettes—often in a manège (creating circles within circles)—come in astounding numbers (more than 20 successive turns by Maykel Solas' catlike jester). In the same clown makeup and purple/mauve motley, Le Mai Linh also danced an exceptionally sprightly jester, a bounding top (at Friday's performance, Linh went missing, replaced in Act 4). Nahat's Swan Lake has twin stories. Firstly, the young prince must assume his adult responsibilities and choose a princess. Secondly, a perverse Baron von Rothbart, whose distant spires (in David Guthrie's set design) overshadow all, must be overthrown. Identifying with bird-kind, von Rothbart turns women into swans and operates them like a puppeteer.
The show opens on an ensemble of swans. Behind them, a dark scrim reveals the red-clad von Rothbart in feathered armoring that almost looks like scales; he manipulates the air and the swans dance. Right to the production's moving finale ("Apotheosis"), impressive behind-scrim visuals project the otherworldly events that inform this kingdom. Symphony Silicon Valley, conducted by Dwight Oltman, provides striking ambience—a fluid harp, a baleful violin, a gentle oboe support the mournful dances of the imprisoned Swan Princess, Odette. Karen Gabay's indelible, soulful performance aches with beauty distorted as the gliding swan princess tries to resist the baron's power.
Like much of Nahat's work, Swan Lake is a masterpiece of personality. Prince Siegfried has four princesses to choose from, each dancing her unique presence. Hip-swaying Hungarian Princess Helonka (Catharine Grow) suggests a posing, self-proud starlet. The laughing Spanish Princess Yliana (Beth Ann Namey) commends her length, height and strength of leg. The twittering feet of sylphlike Sophia (Mirai Noda), the Italian Princess, express a light, happy nature. And a delicate grace marks the dips of skippy Russian Princess Alexandra (Yui Yonezawa).
The ballet's two-week run features three different casts (glutton for Swan Lake that I am, I saw two of them), each distinct but remarkably coherent and balanced. Ramon Moreno makes a pensive, regal, gallant prince; Maykel Solas, a bright-eyed, heroic and dashing one—Hamlet to Prince Hal. Hao Bo's sinewy von Rothbart sets a kind of flash anger on nimble Moreno and on Maria Jacobs' flitting Odette, danced with bird-breasted arch. With an Underworld somberness, Gabay's agonizing Odette is dominated by Jeremy Kovitch's mysterious, powerful baron.
Nahat crams in the original ballet's signature and classical ensemble numbers—and then some—along with his new dramatic storytelling, but the climactic scene is worth the long (three intermissions!) wait. The baron pulls apart tentative hugs and brief clinging between prince and swan. Their movements representing such different forces and meanings of the word charm, the prince and baron fly at each other. Each thwarting the other's movement (being), their fantastic, tumbling clashes create a visual alchemy of violent reaction. In another alchemy, Guthrie's glittering gold, silver, beaded costumery mixes with brooding, breathtaking effects: a hazy moon glowing behind the spire of von Rothbart's castle, wind passing through the clouds (Kenneth Keith, lighting effects, exceptional in the finale), and swans disappearing into the fog.

SWAN LAKE, a Ballet San Jose presentation, plays Thursday–Friday at 8pm, Saturday at 1:30 and 8pm and Sunday at 1:30pm through Feb. 24 at the San Jose Center for the Performing Arts, 255 S. Almaden Blvd., San Jose. Tickets are $25–$82. (408.288.2800)
Send a letter to the editor about this story.