February 21-27, 2007
home | metro silicon valley index | movies | current reviews | film review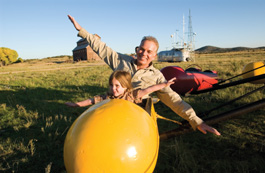 Photograph by Richard Foreman
Houston, we have a problem: Loner Billy Bob Thornton and daughter Logan Polish worry NASA with their homemade space plans.
Rocket of Ages
Polish twins add human touches to otherwise typical American dream 'Astronaut Farmer'
By Jeffrey M. Anderson
THE DEBATE over the difference between mainstream and independent movies has raged for decades. For example, what does one call a movie made by an independent filmmaker for a mainstream audience, say Steven Soderbergh's Out of Sight or Spike Lee's Inside Man? Mostly, one could call it an acceptable compromise between personal vision and entertainment—and a case in which everybody wins. That's also the case with Michael and Mark Polish's The Astronaut Farmer. This is the fourth film by the identical twins, who write all their screenplays together and appeared together in their debut, Twin Falls Idaho. Michael has established himself as director, while Mark has taken on acting roles. This time, the hero of their film does not fall in with their familiar collection of odd, beautiful wanderers, the ones who populated Jackpot and Northfork. Instead, we have the makings of an American hero: a man who launches his own rocket into space.
Texas rancher Charles Farmer (Billy Bob Thornton) was a NASA hopeful who quit when tragedy struck his family. Now his only chance to get into space is to do it himself. The Polishes carefully ladle out this information, avoiding the usual stupid, bludgeoning exposition. Of course, NASA officials would like Farmer to fail. As a NASA colonel (an uncredited Bruce Willis) explains, the administration's multibillion-dollar budget would look bad if some guy proved that it could all be done more cheaply.
The filmmakers unfold the main story with all the proper ingredients intact. The ornery, half-defeated hero easily earns our sympathy, like Rocky with a cockpit instead of a boxing ring. But what makes the movie special are the personal touches from the twins, from a shot outside a supermarket (depicting a runaway shopping cart) to the FBI agents assigned to wait near Farmer's ranch, looking for telltale signs of an impending launch. Played by Mark Polish and Jon Gries, their scenes range from deadpan discussions to a game of horseshoes. Most mainstream filmmakers practice the science of deleting these personal touches, smoothing out so-called "wrinkles" that keep the plot from moving forward. Independent filmmakers, however, realize that these touches make the movie, like the impurities that give a glass of water its taste. But this is not to distract from the skill behind the main chunks of the movie; The Astronaut Farmer is as exciting and moving as any PG-rated "family" movie in recent years. Farmer's relationship with his family, his wife (Virginia Madsen), his teenage son (Max Thieriot) with a knack for engineering, his younger son and daughter (Jasper Polish and Logan Polish), and grandpa (Bruce Dern), features as many "real" moments as it does "movie" moments. And a thrilling, early launch sequence skillfully melds special effects and human emotions. The Astronaut Farmer himself could actually be a metaphor for his own movie. He's warm, messy and scrappy while NASA (i.e., mainstream Hollywood moviemaking) is slick, soulless and machinelike. A big, formula movie like this could easily have been the latter, but thankfully the Polishes know the difference.

The Astronaut Farmer (PG; 104 min.), directed by Michael Polish, written by Mark and Michael Polish, photographed by M. David Mullen and starring Billy Bob Thornton and Virginia Madsen, opens Feb. 23.
Send a letter to the editor about this story.