February 21-27, 2007
home | metro silicon valley index | silicon valley restaurants | review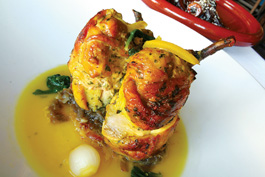 Photograph by Felipe Buitrago
Beyond slices: Cornish hen at Crazy Frank's? That's crazy!
Pie, Madman
Frank Huguenard invents games and makes Indian pizza. Does that make him crazy? Probably.
By Stett Holbrook
Metro's Best Of awards don't come out until this fall, but I'd like to put in an early vote for Crazy Frank's Desi Pizza as Silicon Valley's most unlikely restaurant—and least likely restaurateur.
The 6-week-old restaurant opened in an El Camino Real strip mall between a strip bar and a head shop, taking the place of a struggling Indian restaurant called Mother India Curry House. The dÈcor doesn't look like it's changed much—dreamy Indian landscapes and Hindu images. A barely audible television plays nonstop and over-the-top Indian music videos. In spite of these touches, the place is rather austere, which is odd given the unconventional nature of the food and co-owner "Crazy" Frank Huguenard.
Huguenard is a former high-tech programmer who created a technology called universal telecommunications that he says does for telephony what browsers did for the Internet. So far, he's been unable to market it. He's also the founder of Bountiful Gardens, a nonprofit group that raises disaster relief funds through the sale of heirloom tomatoes. He earned the name "crazy" because of his criticism of the game Ultimate Frisbee. He grew disenchanted with the rules of the sport and invented a new game he called "dischoops," a game he modestly calls the greatest team sport in the past 100 years.
In addition to high tech, disaster relief and inventing games with flying disks, Huguenard says he taught himself to make high quality pizza at home, an avocation that ultimately led to the opening of his restaurant.
Huguenard's partner is Dominic Sakar. Sakar was chef at Shiva's in Mountain View and also cooked at a well-known restaurant in New Delhi.
Crazy Frank's serves an all-you-can-eat Indian pizza buffet. The buffet, such as it is, consists of a green salad, some uninspired-looking pasta and fruit salad, rolls and a pot of soup. On both my visits, the soup (spicy Indian tomato) was quite good. For $9.99 at lunch and $10.99 at dinner, the buffet also includes chai, dessert and one glass of carrot/orange juice.
But the real reason to come here is the pizza. After grabbing a plate of salad or a cup of soup, keep your eyes on the kitchen door. Pretty soon one of the servers will emerge pushing a little cart with a green-checkered tablecloth bearing slices of freshly made pizza atop a thick cutting board.
Indian pizza may sound like an odd combination, but it's really one of the more seamless fusion creations. Bread topped with cheese and vegetables seasoned with various Indian flavors is pretty easy to like. And more often than not, the combinations at Crazy Frank's work.
While Crazy Frank's is one of the first places in Silicon Valley to serve Indian pizza, Amber Café in Mountain View serves a few Indian-inspired pies and Zante's Indian Pizza in San Francisco has been serving the stuff for years.
Remember, this a buffet, so you don't get to order what's on your pizza, but that's part of the fun. As each cart rolls to your table there are usually two or three combinations and you choose what you like or simply wait a few minutes for the trolley to come around again. Chances are it will have a different assortment of pizza and something to your liking.
Before he opened the restaurant, Huguenard worked a number of pizza catering jobs in people's homes to raise money for a trip to India. With Crazy Frank's, he says he's trying to re-create the feeling of those festive events where diners sample various pizza creations as they're pulled from the oven.
Toppings are quite varied. Over the course of two visits I had potato and paneer, okra, broccoli, eggplant, sun-dried tomato, tandoori chicken and spinach. The pizzas have a thin but chewy layer of mozzarella cheese, and instead of traditional tomato sauce Sakar uses a number of sauces redolent with Indian spices.
The crust is thin, but varies in quality. I think it's best when it's light and airy but has a bit of crunch to it, but on one visit it was doughy and undercooked. In any case, the trick is to go for the thinnest slices and pace yourself. As long as you're able to keep eating, they'll keep wheeling out more.
---
Crazy Frank's Desi Pizza
Address: 962 W. El Camino Real, Sunnyvale.
Phone: 408.736.7585.
Hours: 11:30am-2:30pm Tue-Fri; dinner 5:30-9pm Tue-Thu and 5:30-10pm Fri-Sat.
Cuisine: Indian pizza.
Price Range: $9.99 lunch, $10.99 dinner.
Send a letter to the editor about this story.